Hotel room tablets are much more than a pretty addition to the hotel room—read on to find out how they can help you boost revenue and improve the guest experience at your hotel.
The hotel industry is becoming more and more technically advanced. There's a variety of solutions out there that claim to help hotels drive revenue and enhance the stay for guests, but the one that really stands out is hotel room tablets.
Hotel room tablets are digital tablets that remain in the hotel room, offering a platform for guests to interact with hotel staff and access information on the hotel and the surrounding area, facilitating their stay. But what do they really offer hotel businesses? And how do they benefit the guest? To answer these questions, we've isolated the top 6 benefits of using hotel room tablets to show you exactly how they can help your business and your guests.
Reduce hotel operating costs
Technology in the hotel industry has been slow to take off. A major reason for this slow development has been the lack of significant ROI of tech solutions in the hotel industry. Hotels generally have lower profit margins than other industries, so there's not as much room for fancy "nice to have" tech.
Hotel room tablets enable hotel businesses to significantly reduce operating costs associated with running a hotel. This includes printing costs—hotels spend a significant amount on creating and printing branded in-room collateral that soon becomes out of date or gets damaged. Hotel room tablets can be updated instantly, without the need to send staff from room to room, and as often as you'd like. This greatly reduces printing costs while getting rid of the need for staff to go from room to room replacing outdated paper collateral.
Hotel room tablets also enable hotels to save significant operational costs associated with room cleaning. SuitePad's Green Option is a great example of this. Guests are sent a push notification through their hotel room asking if they would like to forgo room cleaning the following day or for the duration of their stay. If they choose yes, housekeeping will know not to visit that room or change their sheets and towels. While this may seem like the impact would be minimal, any hotelier will tell you that the costs associated with housekeeping can be astronomical.
It's not only the cost of water, energy, and cleaning detergent that hoteliers need to think about. The average room takes between 20 and 45 minutes to clean, so staffing costs are significant in this area. In addition, there may be service or staffing costs associated with the washing and drying of towels and bed linen, and if the hotel outsources these services, these costs can be particularly high. Cutting back—even a little bit—in this area will bring significant savings.
The Green Option, which allows your guests to forgo room cleaning on their preferred days, is a great example of how hotel room tablet companies are finding new and innovative ways to reduce operating costs for hotels. In this whitepaper from SuitePad, we show how the Green Option enabled the Esplanade Resort & Spa Bad Saarow to save €2,500 ($3,000) per month and highlight precisely how the Green Option works.
Increase hotel revenue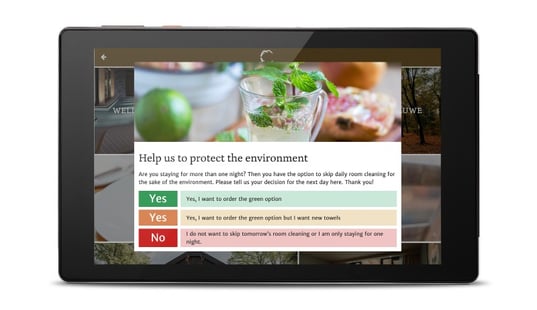 It's not only about cutting costs—it's also about driving increased revenues for hotels. Hotel room tablets are ideal for this. They upgrade traditional marketing collateral, enabling hotels to target guests more specifically and make it easier for them to place orders or book activities.
One of the most important tools for increasing revenue for hotels is the use of push notifications. Push notifications pop up on guests' hotel room tablets, enabling hotel staff to directly offer them discounted activities, or even just inform them on what the hotel has to offer. Hotels that install hotel room tablets usually see an increase in purchasing and activity booking from guests.
But, hotel room tablets allow hoteliers to take it one step further. One of the biggest benefits of installing digital solutions is the ability to collect and use guest data. Hotel staff can send push notifications to guests with targeted offers depending on their interests and desires for their stay. For example, a hotelier could send a guest a short survey before they arrive at the hotel that asks why they're staying at the hotel and what they plan to do. Using this information, hoteliers could offer discounted spa treatments to those guests that are staying because they want a relaxing weekend, or discounted rock climbing day trips for those that say they're looking for some fun and adventure. It offers hotels the chance to get creative with their marketing activities.
Find out more about how upselling through hotel room tablets can help you drive increased revenues at your hotel with our recent blog post, A plethora of opportunities with digital guest directories: upselling.
Improve the guest journey
All serious hoteliers think about the guest journey at their hotel. This is the time from when guests discover the hotel online or through a travel agent to the moment they leave after their stay, but the most important part of the guest journey is the actual stay at your hotel. Nowadays, most guests are used to living with digital technology in their everyday lives, so it's likely that they expect to see it in their hotel room too.
Hotel room tablets offer this level of technology that guests are used to, allowing them to browse the internet, digitally access in-room controls, and plan their stay through browsing hotel information and making bookings. This level of convenience is something that many hotels lack, but those that install hotel room tablets can offer this to their guests.
The digital experience that hotel room tablets offer won't go unnoticed. For many guests, this will be the defining feature of your establishment when compared with competitors in the local area. By improving the guest journey through offering this type of digital solution, you'll see your hotel get ahead of the rest in a very competitive industry.
Seamlessly interact with guests
Guest interaction is a major issue for hoteliers. Of course, hoteliers want to maintain a good level of communication with guests to ensure they're happy and enjoying their stay, but without being overly invasive. Hotel room tablets offer a new communication channel that is easy to use and non-invasive. Hotel staff can now get a better understanding of how a guest's stay is going, and make changes to improve it if there are any negative issues—all without invading guests' personal space through visits or phone calls to their room.
Hotel staff can send a notification to a guest's hotel room tablets, asking them how satisfied they are and if there is anything they need. The great thing about push notifications is that guests don't feel pressured to answer immediately, allowing them to take some time to think about their response. This will enable them to give more honest and constructive feedback and to really think about what they want to make their stay that little bit better than it already is.
Opening up lines of communication with guests by moving the main mode of interaction to hotel room tablets will help heighten the guest experience at your hotel. It will offer guests more control over their stay and give them a better platform for voicing their feedback and requests.
Find out more about how hotel room tablets can help boost communication between guests and staff at your hotel with our blog post, A plethora of opportunities with digital guest directories: Boosting brand awareness & communication.
Boost hotel room entertainment
Hotel room tablets are perfect for boosting hotel room entertainment. They can include games for children and can have integrated TV remotes, streaming capabilities, and music player options. Whether guests want to relax and unwind with some meditation, kill time by playing games, or chill while streaming a movie to their hotel room TV, guests can do this with hotel room tablets.
In-room entertainment is an important part of the guest experience. Bored guests quickly become unhappy guests, so offering them a range of ways to keep entertained while in between activities is a great way to ensure this doesn't happen. The entertainment features of hotel room tablets are particularly great for children, keeping them engaged while they're in the hotel room.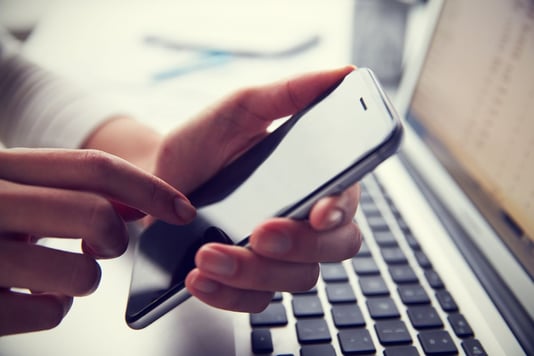 All on one device
Hotel rooms are busy places that get easily cluttered. There's the TV remote, the room service menu, the guest directory, information leaflets, and the hotel room phone.
While all of these additions to the hotel room are certainly necessary, they can make it feel like the room has been lived in.
Hotel room tablets allow you to integrate all of these devices and collateral on one digital platform, decluttering the hotel room and enabling guests to seamlessly switch between using them.
This also fixes the issues of guests losing items such as TV remotes, or the need for staff to change the batteries in this device—ensuring that guests stay satisfied with their in-room experience.
But, the benefits of integrating these in-room additions all on one device go much deeper than decluttering the hotel room. It also enables hotel staff to keep the room more hygienic. Rather than needing to wipe down in-room collateral, TV remotes, and the in-room phone—all of which are large harborers of bacteria and pathogens—hotel room tablets can be disinfected in a matter of seconds with a simple antibacterial wipe. This solution keeps your guests safe by ensuring that bacteria and pathogens potentially left by previous guests are wiped away before they enter the room. If you'd like to find out more about how hotel room tablets can keep your guests safe from pathogens, check out this blog post: Using in-room tablets to overcome the four biggest obstacles for hoteliers during the coronavirus era.
Hotel room tablets will soon be a central feature of the modern hotel
Hotel room tablets have many benefits. They boost revenue generation while saving costs, they offer fresh lines of communication between hotel staff and guests, and they improve the guest experience by offering modern entertainment and booking solutions. In the near future, this improved version of the modern hotel room will become a standard. Hotels that make the switch now will benefit from being ahead of the curve, getting a head start on their competitors and benefiting in the long run.
Here at SuitePad, our solutions are centered around opening up new revenue streams that modern technology can offer for hotel businesses. We work with hoteliers to see what they want, how they can benefit, and how this should be implemented. As a result, our customers see substantial increases in revenue.
We're also well aware of the benefits that hotel room tablets have for enhancing the guest experience at any hotel. The guest experience and the guest journey are the central factors that determine whether guests leave a good review, decide to return, or recommend your hotel and its services to friends and family. We concentrate on offering a platform that compliments the already great service that your hotel has to offer, elevating it to a level that will leave your guests with nothing but wonderful memories.
To find out more about how SuitePad can help your hotel increase revenue and offer a better guest experience, book a free personalized product demo by following the button below.
- Published on February 03, 2021