We're showing hoteliers how they can use digital technology to overcome the coronavirus pandemic at their hotels.

You're probably sick of hearing about coronavirus and the impact it's had on both the hotel industry and the wider tourist industry. While countries are slowly opening up, there still seems a long way to go for hoteliers as society tentatively restores itself to a "new normal"—whatever that may now be.

It's no secret that hotels were designed without social distancing measures in mind—face-to-face service is, of course, the stalwart of good hospitality—but what do you do when you suddenly can't offer face-to-face services anymore? How can you ensure your hotel runs smoothly while meeting the regulatory requirements for a safe, contagion-free business? And most importantly, how can you restore guest confidence in your hotel and the industry as a whole?

We're going to share with you the four major obstacles that hoteliers will face as they reopen their hotels during the coronavirus era, and how they can be overcome by using in-room tablets.

Obstacle #1: Hotel rooms are breeding sites for viruses and bacteria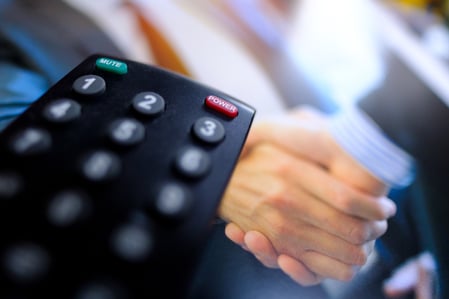 TV remotes harbor high amount of microbes
The problem: We've all become acutely aware of what we touch with our hands since the pandemic began—no doubt you've washed your hands more times than you can count since the pandemic started, and this is no different for your guests. According to a 2018 article published in TIME Magazine, microbial organisms and bacteria were found in high quantities on TV remotes and light switches in hotel rooms. And an article from USA Today points out that as COVID-19 can potentially stay on surfaces for days, the frequent coming and going of guests makes hotel rooms an ideal place for the transmission of the disease.
High-touch surfaces such as light switches, door handles, TV remotes, telephones, and guest directories have been identified as high-risk for spreading the coronavirus. Although your cleaning staff may give them a good once-over with a disinfectant cloth, bacteria and viruses can still survive in the hard-to-reach nooks and crannies of these items when a new guest enters the room.
The solution: For hoteliers that want to ensure the transmission of viruses is minimized, in-room tablets offer a perfect solution. Guests can control most of the room's functions such as lighting, the TV, the guest directory, and the hotel-room telephone using these digital devices. This limits the exposure guests have to high-touch surfaces, reducing their risk of infection and increasing their confidence when staying at your hotel.

In-room tablets—such as SuitePads—are flat and easy to clean, meaning that housekeeping staff will be able to disinfect all its surfaces effectively. If you want to give guests extra confidence about the cleanliness of using in-room tablets, you could also provide disposable disinfectant isopropyl alcohol wipes* for use on the devices when they please. It's these small gestures that will be crucial in giving hotel guests the confidence to return under the "new normal".



Obstacle #2: Guests fear that housekeeping staff can spread viruses and potentially contaminate rooms

The problem: Daily room cleaning is the hallmark of any good hotel, but what do you do when you're told to minimize the contact your staff members have with guest rooms? According to Livescience.com, contact transmission—when an infected person unknowingly transfers minute droplets of saliva containing the virus—is a major form of how the novel coronavirus is spread. As housekeeping staff move from room to room, they have the potential to spread viruses as they go. This is more likely to happen when they are performing housekeeping duties for guests that are midway through their stay rather than the deep clean that's performed between guest stays. Even if your staff follow all the safety procedures and exercise good hygiene, this may not dissipate guest apprehension about the spread of COVID-19.

The solution: Offering guests complete control over the housekeeping rota is a sure-fire way to instill confidence when it comes to staying at hotels. SuitePad's Green Option is already designed to provide this service—all guests need to do is confirm through an on-screen push notification whether they'd like housekeeping to visit their room the following day. This gives those guests that still have anxieties about staff entering their room the reassurance they need while also catering to those that still want the housekeeping service that is such an integral part of staying at a hotel.

In addition to offering guests the opportunity to forgo room cleaning, you could also offer other intermediate services such as replacement towels that could be hung on the outside of the door. This way, guests can still get some of the services they expect from a hotel but in a way that's clean, safe, and provides reassurance. For hotels that aren't offering room cleaning as standard due to the ongoing pandemic, there is the opportunity for guests to request extra room cleaning if they seek peace of mind when it comes to hotel room cleanliness.
Hotels have been experiencing staff shortages since they have begun to open again. Find out how digital hotel technology can help you overcome these issues with this blog post.

Obstacle #3: Dining in communal areas is restricted for guests

The problem: With social distancing regulations in place, it's likely that there will be limited space in most hotel restaurants and bars. This is particularly likely at busy dining times such as breakfast, during which almost all guests in the establishment enter the dining area. It's not only hotel restaurants that face this issue—according to Good Housekeeping, there are still significant risks for diners that decide to dine in restaurants during the coronavirus pandemic, even if they follow social distancing regulations. For hotels, this could mean guests choose to avoid the dining hall—but unlike regular restaurants, hotels can still offer in-room dining.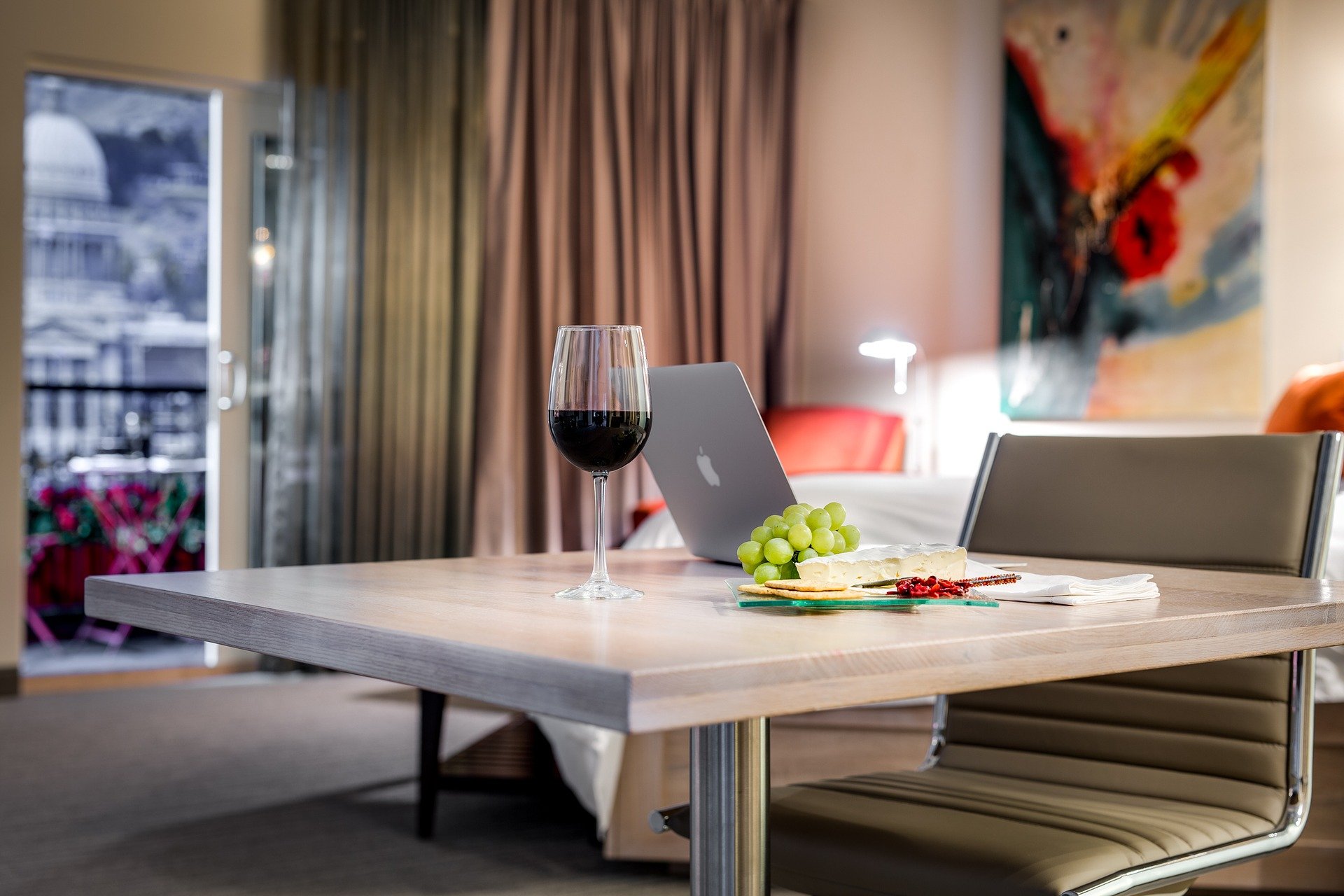 This is an opportunity for hotels to revamp their room service offering
The solution: With in-room tablets, you can provide a safe, efficient, and modern room service ordering process so guests can order in safety. Hotel staff can then serve guests their food without face-to-face interaction by leaving it on a dining cart outside their room. This is a great way for guests to enjoy the brilliant menu that your hotel has to offer, without risking their health.

This solution could also be applied to the busy breakfast schedule. Guests can order their breakfast through their in-room tablets on the previous night and set a time that they'd like to receive it. Hotel staff can then deliver their breakfast either by dining cart or by hanging a small breakfast bag on their hotel room door, therefore requiring no interaction but still providing a first-class dining experience. This is the perfect time for hoteliers to revamp their hotel's room service menu and bring room service back to life!

Another solution that can be used in conjunction with offering contactless room service is using in-room tablets to help manage the flow of guests in the hotel dining hall. Guests can use their SuitePads to book a designated time for dining—whether it be breakfast, lunch, or dinner—making it much easier for the hotel staff to safely organize how many guests are in the dining room at one time. They can then use this system to ensure the hotel isn't breaching any of the social distancing rules that are likely to be in place for a while longer.

Obstacle #4: Changing information about the pandemic is confusing for guests

The problem: As hotels begin to reopen and guests slowly return, it's important to recognize that the situation will not be back to normal for some time—if ever. This means regulations and recommendations set by the authorities will be constantly changing as we adapt to life with the virus. Guests need access to this information as well as an open channel of communication to hotel staff should they have any questions regarding the new policies in place.

The solution: Hotels will need to implement a system that enables them to quickly distribute current information on the pandemic and the changing policies. In-room tablets offer the perfect solution—information can be updated, uploaded, and distributed to every room in the hotel at the click of a button. At SuitePad, our installations include an intuitive backend that allows hoteliers and their staff to quickly update information on all the devices connected to the network. This can be done as often as needed and won't require staff going from room to room to hand out newly printed information leaflets—which itself could also put guests at unnecessary risk.

In-room tablets have various channels of communication, so guests can contact the front desk with any queries they may have, leave reviews about their stay, and hotel staff can send push notifications to inform guests of any changes in policy. At a time when up-to-date information could literally save lives, this is an indispensable resource to have at your hotel.
Check out this free slide deck that highlights 6 major challenges for hoteliers in the coronavirus era.
Reopening your hotel with SuitePad's in-room tablets

In an ideal world, your guests would receive the great face-to-face interaction that they expect from your hotel, but as the current situation means this isn't available, you need to find innovative solutions as you reopen your hotel. You may have thought that digital technology in the hotel industry was just a "nice to have" solution that's only useful for hotels that want to impress their guests. However, that rationale is shifting as the current global pandemic has exposed how fragile the hotel industry is in its current state. Digital technology now offers a lifeline in troubling times.
SuitePad in-room tablets enable you to provide a top-quality hotel experience for your guests while still following the regulations implemented as a result of the pandemic. Good hotel room cleanliness, clear communication, and top-notch service are all much easier to maintain with the help of SuitePad's digital solutions. By overcoming the four major obstacles caused by the coronavirus, you'll get your hotel back up and thriving in no time.
Check out our dedicated coronavirus webpage where you'll find all the information you need on how SuitePad can help you during the global pandemic.
- Published on June 08, 2020