Digital solutions offer guests more choice, but how does this translate to helping your hotel business help the environment and save money? At SuitePad, we've named this the "Green Option".
In this age of global warming and environmental uncertainty, customers are becoming more environmentally conscious and as a result, many may well wish to refrain from having their room cleaned in order to do their bit in protecting the environment.
So, how does the Green Option work?
Well, it's really quite simple! The Green Option offers guests the choice to abstain from room cleaning on the days of their choice – provided that they're staying for more than one night. Guests will receive a pop-up notification or have access to a fixed tile that asks them if they'd like their room cleaned the following day. Think of it as a digital "do not disturb" door hanger, but without the need for printed collateral, and with the added benefit of knowing well in advance that the room won't need to be cleaned!

While the customer is encouraged to act environmentally, they're of course free to choose as they please. The "Green Option" title is a default term we at SuitePad created, but as this is your hotel and your SuitePad, you have complete control over the name of this feature – you may wish to keep it simple and neutral such as "unsubscribe from housekeeping", or be a bit cheeky by naming it the "keep the snow on our slopes" option (particularly effective if your hotel is in a ski resort!). The SuitePad gives you the flexibility to design an option that you know will reflect the interests of your guests.
The incentive for guests: from good karma to great offers
For guests, the Green Option provides a sense of satisfaction that they are helping preserve the world we live in, putting them in a good mood and enhancing the experience of staying at your hotel. One business went even further, rewarding their guests with "karma points" for their selfless deed – an incentive that was surprisingly effective as it presented the hotel as having a good sense of humor so that customers felt it was relatable.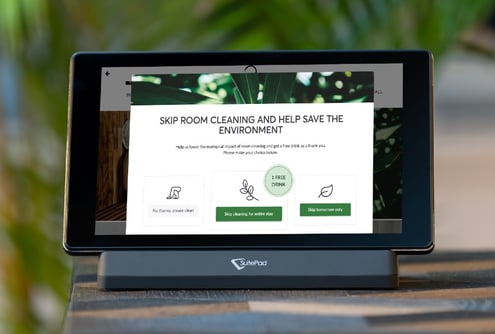 There are of course more tangible incentives that hotels can offer their guests, such as:
A donation to a charity or non-profit environmental association
Extra points as part of the hotel's loyalty program
A voucher to spend at the hotel bar, restaurant, or shop
A good example of this type of offer can be seen at the Hotel Esplanade Bad Saarow, one of our flagship hotels, where guests are rewarded with a €5 voucher to spend at the hotel restaurant or a 20% discount at the in-house soap factory.
In a SuitePad poll conducted in October 2020, 38% of respondents said they'd like room cleaning to take place on a daily basis, 38% said they'd only like it when asked for, 21% said that daily room cleaning is too much, and 3% said that they don't need room cleaning at all. From these results, we can tell that at least 62% of the 132 people asked in the poll would make use of the Green Option feature.
The incentive for hotels: reduced costs, improved image, and an enhanced guest experience
Hotel businesses can also benefit from both the tangible and intangible benefits of the Green Option. The cost savings alone make this option attractive as hotels tend to spend copious amounts on cleaning staff, laundry services, and cleaning equipment – all of which can be dramatically reduced by offering our Green Option. At the Hotel Esplanade Bad Saarow, it was calculated that the cost of cleaning each room was €12.84. In the first month, the Green Option was chosen by customers 115 times, resulting in a total saving of €1,476.60. This sum alone covered the cost of the monthly license for SuitePad with some to spare!

Other tangible benefits include the opportunity to up-sell and cross-sell. By providing vouchers, discounts, or other incentives for guests, you'll be increasing the likelihood that they'll use your hotel's services, creating greater opportunities to upsell in the shop, restaurant, bar, or elsewhere.

The measurable benefits are clearly impressive, but what about those benefits that are harder to measure such as hotel image and guest experience? In many ways, the benefits that can't be so easily measured are more valuable than those that can! You'll be building yourself a reputation as a sustainable, progressive, and transparent business – values that resonate with guests in this modern age of global warming and environmental uncertainty.

In addition to this, there is another, less obvious benefit that comes with offering the Green Option – allowing your guests choice. By allowing guests the opportunity to make a choice, you'll be helping them feel in control of their hotel experience, and so they'll receive the level of service they've come to expect in this modern technological age. Even if guests don't choose the Green Option, merely offering it enhances the feeling that they're in control of their stay and will heighten their experience at your establishment.

If you'd like to reduce operating costs and build yourself an image as a business that's progressive and environmentally aware, we'd be happy to advise you further on the potential that offering a Green Option from SuitePad would have for your hotel business. Follow the demo request link below to learn more about SuitePad's Green Option feature from one of our hotel guest engagement experts.
- Published on May 08, 2019