In part two of our blog post series, you'll find out how you can generate more revenue for your hotel through upselling and cross-selling as well as how a digital guest directory can help you do just that.
Goal #2: Increasing sales through upselling
Is there anything better than a late breakfast enjoyed in the comfort of your hotel room? Or picking up the souvenirs you pre-ordered for your loved ones from the hotel's gift shop when you come down to reception for late checkout? Guests aren't the only ones who appreciate these kinds of additional services – the extra revenue generated by upselling and cross-selling is also indispensable for hotels!
Read part 1 of our blog post series on "Enhancing digital communication"
So, what exactly are upselling and cross-selling

Upselling and cross-selling in the hotel industry involve giving guests the opportunity to purchase additional products or upgraded services. It often involves persuading guests that they stand to gain something tangible, such as added comfort, greater benefits, or better value for money. Hotels often offer products and services like breakfast, chocolates, flowers, tickets for events, babysitting services, and spa treatments. But although this might sound simple, the art of upselling can present a challenge in practice.
James today, Annie tomorrow – the problem with staffing changes

In conventional systems, the reception desk and the marketing department are usually tasked with upselling and cross-selling. The receptionist will try to offer the right product or service at the right time, usually relying on their gut feeling to generate more turnover. Some hotels take a more ambitious approach and train their staff thoroughly. The problem with his approach is that by the time you've turned one of your receptionists into an upselling whiz, the season draws to a close and they move on. Moreover, the additional revenue generated through upselling and cross-selling depends on how motivated hotel employees are and the time they can devote to it. It often requires some kind of commission-based incentive if you really want to see results.
In-room tablets – the secret upselling weapon
Can a digital guest directory really replace an impeccably trained receptionist? In truth, no software, robot, or other technical solution is ever likely to replace a personable human receptionist. However, digital guest directories can help make life easier, for both you and your receptionists. An in-room tablet is akin to having a silent butler in the hotel room, available to attend to your guests' needs 24 hours a day and capable of displaying persuasive images and enticing descriptions of your hotel's products and services. A guest directory acts as a digital bridge, enabling your guests to communicate with the front desk.
Nevertheless, you shouldn't simply leave upselling to the tablet – with push notifications you can go one step further and offer special deals to your guests. Another guest has canceled a dinner reservation at the last minute? No problem! With just a few clicks, you can send a notification to your other guests' tablets, letting them know that a table has opened up.
Check out a few examples of how SuitePad customers have boosted their sales using digital guest directories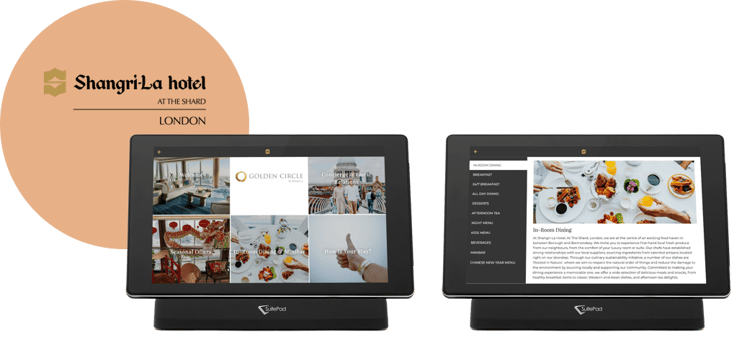 Shangri-La Hotel, At the Shard, London shows how you can draw attention to the services on offer with inviting photos. In addition to a variety of in-room dining options, the SuitePad entices customers with seasonal offers, such as a Mother's Day Bottomless Brunch in the infamous Sky Lounge.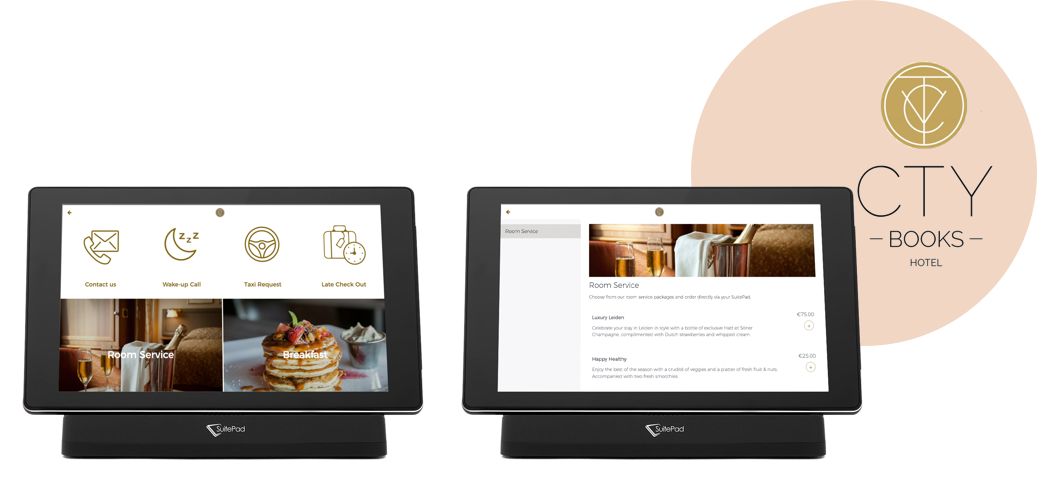 CTY Books Hotel, based in the Dutch city of Leiden, uses digital guest directories as a replacement for paper room service menus. This encourages guests to scroll through the menu at their convenience and place their order with just a few taps on the in-room tablet.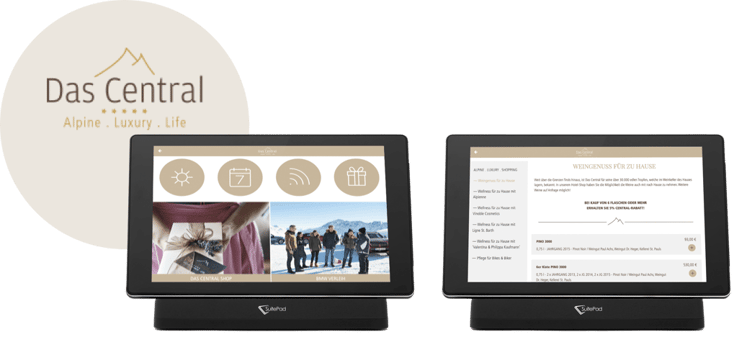 Another SuitePad customer, Das Central in Soelden, Tyrol (Austria), uses the digital guest directory's online shop function to showcase a variety of souvenirs, such as local wines, cosmetics, and sun creams. Luxury hotels like Das Central can also use their digital guest directories to offer spa treatments. Just like the online shop, guests can book a treatment directly using their tablet.
As these examples demonstrate, no two guest directories are the same. The digital guest directory can be fully tailored to meet the needs of each hotel. Another feature that may be of interest to hotels is the ability to offer different services through in-room tablets based on the room category. For instance, your rooftop suites might be presented with a luxurious Champagne selection while classic double rooms can tempt guests with a nice wine list. Customizing your guest directory based on room categories can be particularly effective if your hotel is aimed at different groups of guests with differing budgets.

When if not now?
That's exactly what's going through your receptionist's mind when listing additional services to guests at check-in. Yet the majority of guests are overwhelmed with this flood of information and refrain from booking any additional services. A study from GfM has shown that the best time to upsell or cross-sell is once a guest has arrived. Staying at a hotel is often a special occasion; the purse strings are a little looser and guests can be tempted to treat themselves. Once they arrive, their holiday can really get started. With a digital guest directory in the room (see webinar: "Mastering Digital Guest Communication in the Hotel Room"), guests don't feel pressured to make a decision. Instead, they can browse before they buy and decide when they are ready to make a purchase. Inviting pictures complement the product descriptions; for many guests, visual stimuli can be the trigger for a decision to buy. Nowadays, verbal recommendations and product presentations from hotel staff just can't keep pace with the changes in buying behavior.
Upselling with in-room tablets – suitable for mature consumers too
If you think that digital guest directories are only for younger generations, you're mistaken. A study by Heilbronn University of Applied Sciences found that around 75% of over-50s surveyed would use an in-room tablet to look up the weather forecast, tourist attractions and hotel information. Approximately 60% of those surveyed would use the tablet to book spa treatments, place orders, check out or leave feedback. A third of mature consumers would also use the digital solution for other things, like making phone calls and controlling the TV. That's exactly why SuitePad integrates the hotel telephone and TV remote control into the in-room tablet by default. The survey also found that using an app to control other in-room technologies is not a very popular idea (only 2%).
Interested in the digital guest directory?
We'd be happy to provide a free, no-obligation product demo to illustrate how you can use the digital guest directory at your hotel.

Read part 1 of our blog post series on "Enhancing digital communication"
- Published on October 30, 2020