In the third part of our blog post series, you'll find out how digital guest directories can help hoteliers boost their brand awareness and brand communication.
Goal #3: Boosting brand awareness & communication
So, your hotel or hotel chain is one of a kind? No doubt. But do your guests recognize your marketing campaigns at first glance? Brand awareness starts before a guest's first stay and can be boosted both during and afterward through skillful brand communication. Using real examples from our SuitePad clients, this blog post will show you how digital guest directories sustainably help to strengthen brand awareness through enhanced brand communication.
Read part 1 of our blog post series on "Enhancing digital communication",
and part 2 "Increasing sales through upselling" here.
What is meant by brand awareness and brand communication in the hotel industry?
Brand awareness describes the extent to which customers are able to recall or recognize a brand (detailed definition). In the hotel industry, brand awareness refers to the probability that a guest thinks of a hotel brand and how likely they would be to book or rebook a stay or recommend it to others. For many consumers, brand awareness and trust play a key role in their purchase decision. A high degree of brand awareness can therefore translate into a long-term, sustainable, and competitive advantage for a company.
The term "brand communication" is relatively self-explanatory – it describes how a hotel communicates its brand internally and externally to increase brand awareness. Brand signatures, which are made up of the corporate name and the company or hotel logo, are crucial for consistent internal and external communication. Brand signatures are used in the communication process to evoke positive emotions and increase company and brand awareness. Brand signatures should be designed and chosen based on the relevant marketing objectives.
A flyer here, a logo there – how far does in-room brand communication need to go?
Today, simply featuring the hotel logo on bed linen, shower gel, or pens is nowhere near enough to secure guest loyalty to the hotel brand. While the entire process, from searching for information to leaving a review after the stay, has become increasingly digitized in recent years, the actual hotel room has changed very little. This remains the case despite the fact that the guest now lives in a completely new world – a digital one.
Extending digital uniqueness to hotel rooms
Digital guest directories represent a unique opportunity to optimally communicate your hotel brand and build guest loyalty. Through continuous communication, your guests will associate adverts or other advertising material with their unforgettable holiday experience even after their stay at your hotel, recommending it to others and forming strong bonds with your brand.
From simple tablet to in-room brand ambassador
But is a tablet really versatile enough to adapt to the style guide and special brand messages? Yes, it is! Using four customer installations, we will show you just how versatile SuitePad really is, how unique our clients' digital guest directories are and how hoteliers use them to boost their brand communication and create sustainable brand awareness.
Hotel The Match
The following five adjectives succinctly describe Hotel The Match's style: dynamic, urban, edgy, industrial, and iconic. The 85-room hotel in the center of Eindhoven uses its guest directory to offer guests restaurant and sightseeing recommendations, information on available services, and the hotel A-Z. The SuitePad also serves as a telephone and remote.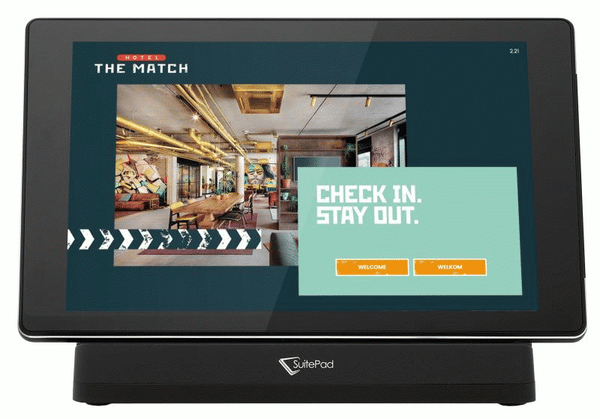 Gekko House
Gekko House makes a unique statement of urban luxury for both international and local guests in Frankfurt. Its 128 rooms are designed for cosmopolitan travelers and those who love a vibrant lifestyle. Their SuitePad reflects this concept. Guests can use the Gekko House Digital Guest Directory to peruse the restaurant menu, request a wake-up call, find out more about the team, or take advantage of the quick check-out option.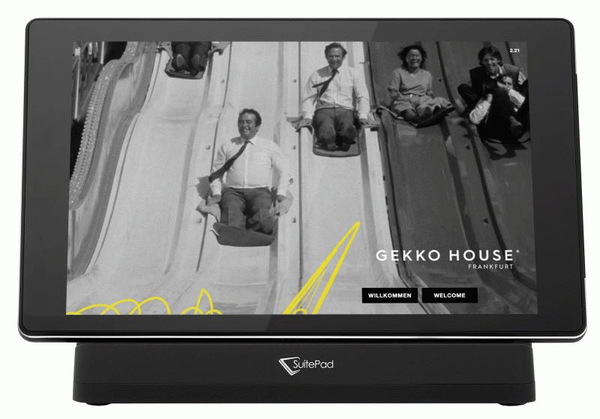 REVĪVŌ Wellness Resorts
Just like the Revivo brand, the digital guest directory is linear, symmetrical, and balanced. The SuitePad for the REVĪVŌ Wellness Resorts in Bali invites guests to dive straight into the world of relaxation and rest. Guests can use the guest directory to find out about and book spa treatments, order room service, and listen to music and podcasts.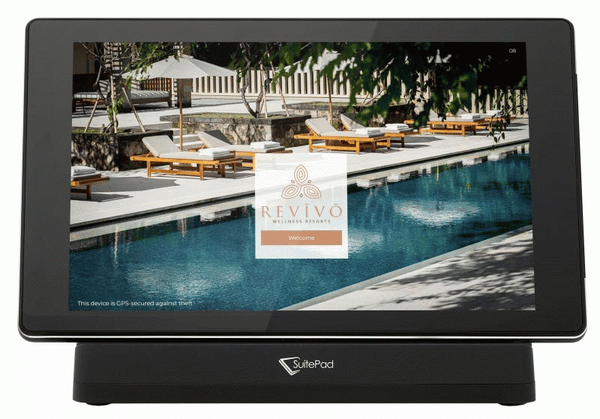 Valamar Collection Marea Suites
The digital guest directory for Valamar Collection Marea Suites focuses on content-related brand communication and fostering sustainable guest loyalty. The Valamar Plus Club offers guests attractive advantages, which have successfully increased guest loyalty and direct bookings. Guests can also use the digital guest directory to find out more about the various membership levels and their benefits and can even complete an application form to become a Valamar Plus Club member.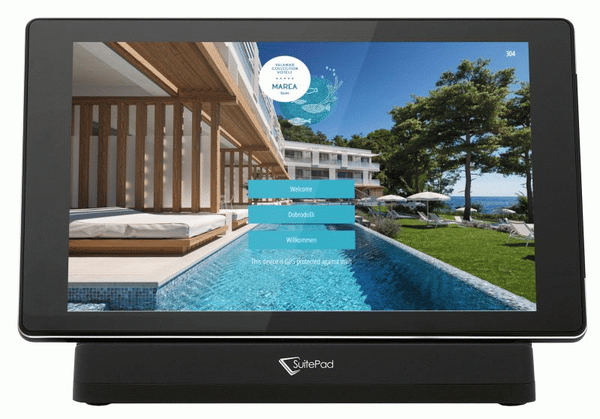 These four examples demonstrate that no two SuitePad solutions are alike. We adapt the installation and functions to the style guide and the hotel's requirements and goals. This guarantees optimal brand communication both within the hotel room and beyond. The hotelier or receptionist can also update the installation in the backend at any time and add elements such as new images, texts, and menus. This means you can offer your guests an up-to-date, hygienic, and modern guest directory with interesting and appealing features while saving the paper and effort that would otherwise have been involved in updating a traditional guest directory.
Do you already have your digital guest directory in mind? We'd be delighted to discuss it with you and show you a free product demo of the exciting features and options a guest directory can offer you. Request a demo HERE!
The success story: Dorint brand expansion and strengthening
The Dorint Hotel Frankfurt/Oberursel case study shows that SuitePad helped to generate more additional sales, increased guest satisfaction, and strengthened the Dorint brand. The hotel, SuitePad, and Dorint headquarters worked together to create an individual solution that embraces the typical Dorint look and feel. They were able to strike a balance between the hotel's own focal points for sales generation and those of the company headquarters, such as the Dorint Card Bonus Programme. The Dorint Card, which guests can apply for via the SuitePad, serves to build guest loyalty and boost brand awareness.

SuitePad as a brand communication aid beyond the hotel room
SuitePad BYOD enables guests to access the digital guest directory via a personalized link – wherever they are and regardless of the device they are using. With this, the digital guest directory ventures out beyond the hotel room in its role as brand ambassador. SuitePad BYOD means you can offer your guests the advantages and functions of a hotel app – in the hotel's design, of course – without having to incur any additional costs for development, design, or marketing.
Choose digital uniqueness for your brand communication – in the hotel room and beyond!
We'd be happy to provide you with a non-binding product demo to explain the many possibilities a digital guest directory can offer your hotel and would be pleased to discuss how SuitePad can assist your brand communication and boost your brand awareness.

Read part 1 of our blog post series on "Enhancing digital communication",
and part 2 "Increasing sales through upselling".
- Published on November 25, 2020