We'll have a look at what exactly a tech stack is and what software it should include if you want to optimize your guest journey and your business.
Everyone is talking about integrated hotel tech stacks these days. This comes as no surprise, given how the topic of digital transformation has been on guests' and hotel owners' minds over the past few months. The focus is now turning to the tech stack as a whole.
But what exactly is an integrated hotel tech stack? What role do integrations play? And how can your hotel and your guests benefit from it? This article will give you an insight into exactly that and shed light on which tools are part and parcel of a well-equipped tech stack.
What is a hotel tech stack?
The term 'hotel tech stack' describes the collective software your hotel uses in its day-to-day operations. It includes everything that helps you advertize your hotel, generate bookings, manage data, communicate with your team and your guests and so on. In the past, very little technology was available to hotels beyond the absolute basics, such as the booking system and the property management system (PMS). Most hotels had a very compact tech stack.
Today, hotel tech stacks are much more comprehensive. Software developers are producing more and more specialised systems that we could barely have imagined just a few years ago. Just think of chat bots, digital access control systems, communication through digital channels, and fully automated revenue management systems (RMS).
What does a well-integrated hotel tech stack have to do with happy guests?
Many modern technologies promise hotel owners that they will optimize their business, generate higher revenue and delight their guests with outstanding service. When selecting new software, always bear in mind that in order to achieve the best results, your systems must communicate and exchange data with one another – i.e., they must be integrated. This saves your team having to do things manually (e.g. transferring data from one software to another), reduces the risk of errors associated with manual steps and frees up time for personalized service.
Having the right technology and integrating it effectively can help you to:
provide services faster and reduce waiting times for guests
further personalize the guest experience
enable tourists to play a more active role in planning their stay
solve problems faster or avoid them in the first place
offer contactless service
However, do not let all these attractive benefits tempt you into chasing every new trend and trying to implement every new solution. Instead, identify exactly what your hotel and your guests need. Think about which aspects of your business you could make more efficient and more guest-friendly. You may, for example, ask your employees which processes they would like optimized or automated. You might also review guest feedback: has any potential for improvement come up in the past? This provides you with a good basis for identifying solutions that will make a real difference to your guests.
Important systems that work even better through integration
The following section introduces a selection of tools that are essential for a seamless guest journey and rely heavily on integration:
Property management system
Your PMS is the beating heart of your hotel: its data center. As the basis of your hotel tech stack, it needs to offer good integration options with other systems. A PMS with Open API is ideal, as this simplifies integration with multiple systems without requiring a new interface for each program. An Open API also facilitates continuous data exchange, which guarantees that all connected programs always have the latest information available.
Digital access control systems
Digital access control systems that do away with physical keys are increasingly popular because, thanks to integration with the PMS, these systems facilitate fully contactless arrivals. Guests can check in online and automatically gain access to their room and other relevant areas (such as the lounge, spa or car park) through a web app. It completely cuts out the reception desk, making your guests' arrivals much more efficient. Further innovations are being developed all the time, so the Apple Wallet on your guests' smartphones will soon replace all external apps that are currently required to make them work.
Digital guest communication and booking options
Nowadays, guests don't want to wait to hear back from a hotel. Enquiries, especially ones relating to a potential booking, must be answered as fast as possible. A live chat or even a chat bot on the website could make this possible. Some of these tools can even be integrated with the booking form, so guests can book directly through the chat without having to switch back to another page.
Quick answers and well-prepared, relevant information is just as important when your guests arrive at the hotel. SuitePad Tablets provide both with ease. They can replace the traditional guest directory, the TV remote control and the in-room telephone. You can use them to provide a digital welcome tour of your hotel, advertize additional services and give your guests a direct connection to your team. As a communication channel, they also enable you to ask your guests how their stay is going. And, if you notice a problem, you can solve it swiftly and make sure that your guests are pleased with the outcome.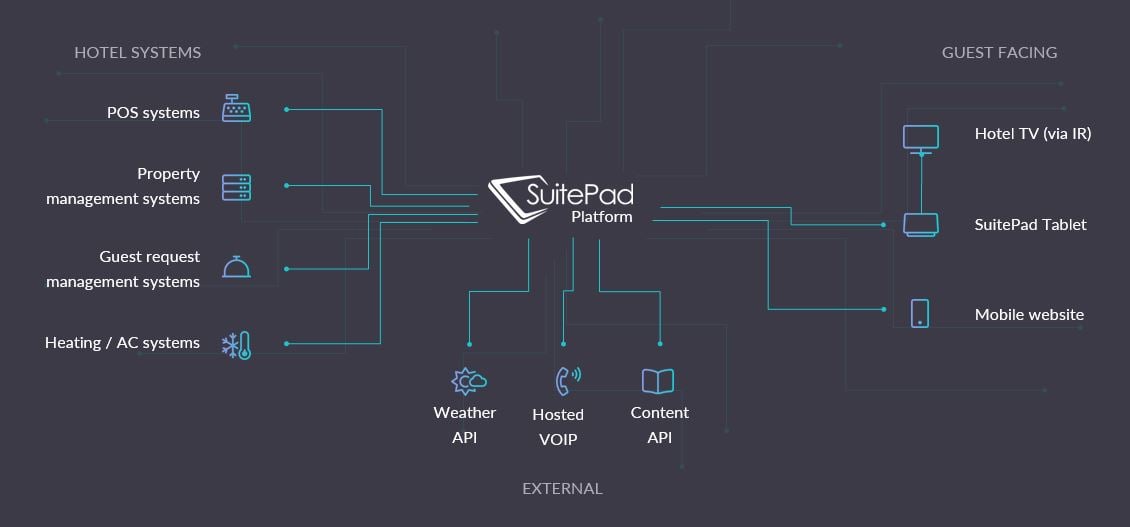 Internal communication software
The easier your employees can communicate with each other, the smoother and more efficient your operations become. Platforms like Hotelkit are ideal, as they allow your team to communicate effortlessly using computers, tablets and smartphones. You can also integrate Hotelkit with leading PMS and guest communication solutions. For example, you can directly forward guests' complaints using the SuitePad in-room tablet. This allows your team to react quickly and solve problems without wasting any time. When all your communication flows through a single tool, everyone on the team knows what to use and nobody misses important information. You can always keep an eye on what has been done, what is still pending and what comments have been made about the individual tasks.
Customer relationship management (CRM) software
An effective CRM solution is important for staying in touch with your guests during and after their stay. By integrating your CRM platform with the PMS and your communication tool, you can automatically send personalised messages to your guests. This is especially useful after their departure, as it encourages reviews and repeat bookings.
The importance of an integrated hotel tech stack
As you can see, the latest hotel technologies save time and take pressure off your team. They also improve your guests' stay and offer them with a new, individual experience. The most important step is to choose the right tools for your hotel and always check the integration options of any software you are considering. This way, you can put together your ideal hotel tech stack and pave the way for an optimized guest journey and efficient processes.
- Published on February 24, 2022