A SuitePad installation is much more than the hardware and software provided for your hotel. You'll also receive world-class support from our dedicated Account Management Team.
With their invaluable support and advice, you'll be able to make the most of your SuitePad installation, meeting your goals, and heightening the guest experience at your hotel.
This blog post will explain how the Account Management Team will help you get your SuitePad installation up and running, and how they can give you ongoing support whenever you need it.
Planning your SuitePad installation – the customer onboarding process
After signing your contract with SuitePad, we will start a process of planning and setting up your personalized SuitePad devices before the installation takes place. During this process, your dedicated account manager will take you through each step of the setup process, answering any questions you may have along the way.
The steps of the onboarding process are as follows:
We'll start by preparing a project kick-off call. During this call, we'll consult and clarify the content you'd like included, and any questions you may have. We'll explain what we need in terms of content, what you as the customer should prepare, and we'll show you some examples of what content works best.
You will then provide us with the content you'd like to be added to your SuitePad installation as agreed in the kick-off call.
The Account Management Team will then work with the relevant teams at SuitePad to process your installation, ensuring it meets your specifications.
Once the first draft preview is ready, we'll arrange another meeting to go through the first version of your new installation. During this call, we'll note any tweaks or changes you'd like to have made.
We'll then go away and do a second round of processing for your installation, finalizing the changes agreed in the preview call.
We'll then ship your SuitePads to you, install them for you or provide a remote installation (optional), and also provide extensive training for your staff so you can hit the ground running with your new SuitePad installation!
We aim to have this process completed within 6 to 8 weeks.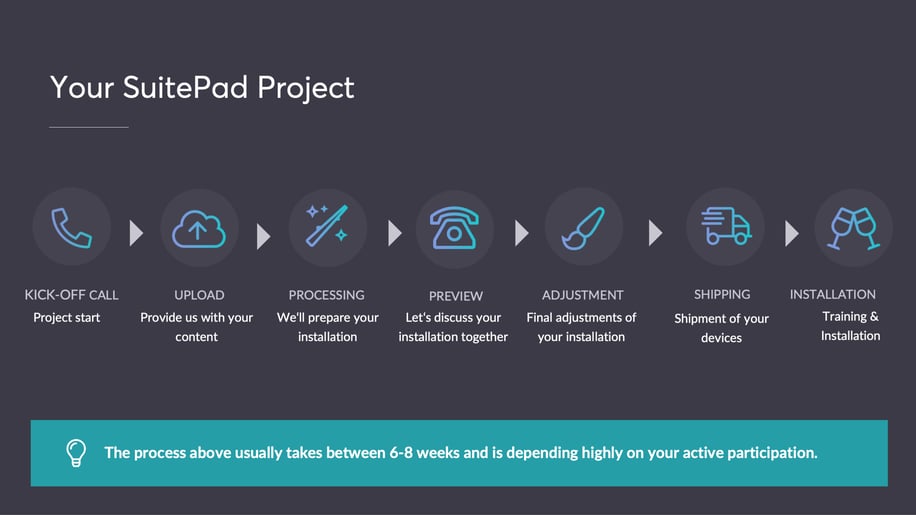 Your dedicated point of contact here at SuitePad
The role of the Account Management Team doesn't end there—the onboarding process is just the beginning! Once you've settled into life with your new SuitePad installation, your dedicated account manager will be on hand to help in any way they can. They then become more of a SuitePad consultant. If you have any questions about how to make your SuitePad installation even more impactful for your hotel business, they're the person to ask.
Your dedicated account manager will also provide regular feedback calls, using the statistics provided by your SuitePads to suggest and implement tweaks and new strategies for increasing ROI. For example, they may see the opportunity to boost in-room dining through push notifications or may see that guests are particularly fond of a certain tile on your SuitePad interface that could be moved to a more prominent position to increase engagement. Working together with your account manager, you'll quickly optimize your SuitePad installation to meet—or even surpass—your expectations!
While many companies lock you into a contract and then provide little to no service, here at SuitePad we understand the need to provide consistent, focused, and high-quality support throughout the whole tenure of your contract. For many customers, this is one of the major reasons why they choose and stick with SuitePad. Here's what some of our customers had to say:
"Their "Customer Care" approach is also truly outstanding!" - From a resort in Khwaeng Pathum Wan (Thailand)
"We reviewed several companies that offered this service and chose SuitePad for the technology and also because of the customer support. The people at SuitePad do exactly what they say they will do and that is to make our experience easy and the guests experience user friendly. The entire process from selection, to uploading our information, building the platform that worked best for our property, training the team, and installing in the rooms was smooth and quick." - From a Boutique Hotel in Waynesboro (United States)
"Our account manager is very helpful and always tries to find a solution to our requests. It makes working with the system easy and understandable." - From a resort in Seefeld in Tirol (Austria)
Of course, if you have any other questions or issues with your SuitePad installation, you can also ask your account manager or directly contact Tech Support at SuitePad to have it quickly resolved.
Life in the SuitePad Account Management Team
The Account Management Team is the central point of contact for SuitePad customers new and old. Their role is one of the most dynamic and collaborative in the company, so every day is different! Here's what some of the members of the Account Management Team had to say about their experience working in this fun and vibrant environment.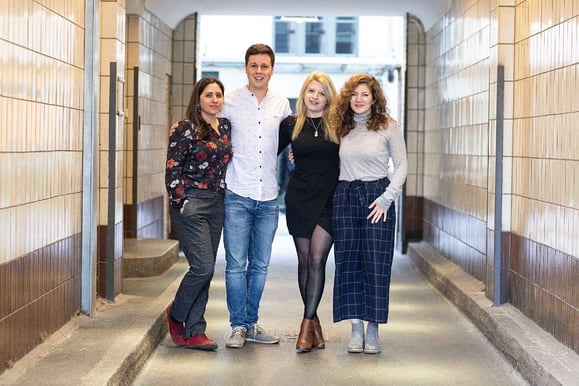 Angela: "I really enjoy the daily contact with many different hotels and appreciate the different needs and ideas they each have about our individual solutions. Thanks to my hotel background, I understand the internal work processes of our customers very well and try to provide advice to optimize and simplify their internal processes and procedures."
Anita: "Looking after the many different hotels in different countries, as well as the variety of activities makes the job unique. The working atmosphere in the team is great, which makes it a pleasure to work here every day."
Stefanie: "I think it's great that you can build up a close relationship with customers in a very short time. No two days are the same, which makes the work in account management at SuitePad very varied and exciting."
Yannick: "I particularly like helping hotels visibly advance the digitization of the hotel for guests and employees"
Miriam: "I enjoy getting to know the many different hotel partners and working with them to ensure that communication between hotel and guest comes first. Every time a new SuitePad product is released it is really fun and inspiring for everyone in the team. These are some of the most satisfying moments."
Book your free SuitePad demo today!
If SuitePad sounds like the solution for you, book your free demo now. If you choose to go with our solution, you'll have the pleasure of working with our dedicated Account Management Team who will be on hand to help you with any queries and maximize the potential of your SuitePad installation.
- Published on December 14, 2020