Hotel technology is ushering in a new era for hotels. Find out how it can improve the customer experience at your hotel.
Digital technology is adding value for customers in industries all over the world. Just think of what Uber has done for the minicab industry, or Deliveroo and Deliveryhero have done for the takeout experience. There have also been whole new industries created based on the development of new digital platforms. Dating apps, for example, have completely changed the way people meet.

All of these digital solutions focus on the customer experience as their number one priority. They strive to make customers happy and make their user experience pleasant and simple. With a view to help you understand how hotel technology can benefit your hotel business by improving the hotel customer experience, this blog post will focus on some of the most pressing concerns and questions you may have about using hotel technology to improve the hotel customer experience.

Understanding how technology fits into the hotel space

Technology in hotels is a rapidly growing industry. Much like many other areas in the hospitality space, hotels have seen the benefits of going digital. Some of the most obvious areas where digitalization has been utilized are digital check-in and out, and digital room keys. But, apart from these functional uses, there are also uses of digital technology that dive much deeper into affecting and improving the experience for guests while they're at the hotel. This is called guest engagement technology.

Guest engagement technology includes digital interfaces such as tablets, mobile apps, and interactive smart TVs that allow guests to digitally communicate with hotel staff. This "communication" is more than is traditionally provided by the hotel room telephone—it includes chatbots, chat functions with staff members, ordering and booking menus for hotel outlets, and push notifications that can be sent from the hotel directly to guests.

The point of using such technology is to build trust and increase accessibility for guests to enable more autonomy in building their hotel experience. Autonomy has become a major component of the modern customer experience, so it's only natural that this aspect should be brought to the hotel industry. Below, we've put together three points that highlight how digital hotel technology and guest engagement technology will improve the experience for guests at your hotel.

Hotel technology will never replace hotel staff

To start off with, it's important to reinforce that hotel technology won't replace hotel staff. There's a commonly held view that technology in the hotel space replaces the personal touch that is so central to hotel service and reduces the need for hotel staff. Many hoteliers fear that guests will react negatively to this and that they are betraying the trust of their loyal staff. However, this couldn't be further from the truth. Digital hotel technology can help you deliver a better service for your guests while also retaining the need and loyalty of your staff.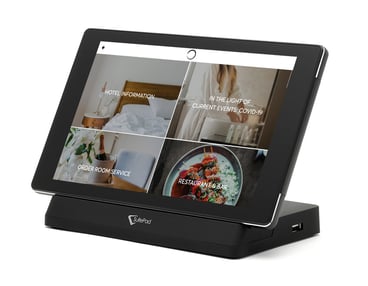 It's important that any hotelier understands exactly what hotel technology providers hope to achieve. Rather than looking to help hotel businesses cut their staffing costs, hotel technology companies hope to enable hotel staff to elevate the standard of hotel stays across the board. They hope that features that are now luxury will soon become standard, and through technology, they hope to define a whole new level of luxury for the hotel industry.

At SuitePad, we provide guests with all the necessary hotel information, but our solution is designed to drive guests to in-hotel services. By driving customers to the hotel restaurant, wellness facilities, and in-house activity booking outlets, many of our customers actually see an increase in staffing needs to deal with the increased demand for hotel outlets. As SuitePad's solution also constitutes a positive return on investment, there is more than enough money to pay for these additional staffing needs in various departments of the hotel.

Meeting guest expectations using digital technology

A major argument for endorsing modern hotel technology at hotels is to meet modern guest expectations. As connectivity and seamlessness through modern technology have become a much larger part of modern life, guests now expect features that were once considered luxuries. This type of development isn't new in the hotel industry. When cable TV was first introduced to hotel rooms, it was considered an added bonus that would entice hotel guests to the property. Now, however, cable TV in the hotel room barely raises an eyebrow and guests have come to expect this as a minimum.

These types of changing expectations will continue to grow as modern technology progresses. As everyday consumer technology continues to develop at an accelerated pace, hotel guests will expect the same to be reflected in their hotel experience. It's important that hotels don't get left behind and become digitally stagnant in the modern world. While hotel staff fulfill a major part of the hotel experience for guests, there are some experiences that hotel staff simply can't fulfill which is where hotel room technology comes into play. Bridging this gulf is exactly what hotel technology providers hope to achieve.

Think about how easy it is for consumers to order food nowadays. All they need to do is log onto an app like UberEats or Deliveroo, and they can instantly scroll through what's available, check each restaurant's menu, make the order, and then track exactly where their order is. The days of searching through takeout menus, making a phone call, and then waiting and wondering when the order is going to turn up are long gone. While it may seem that this seamlessness and simplification of the ordering process is a bit excessive, the numbers say otherwise. According to BusinessOfApps.com delivery app revenue has tripled in the US between 2015 and 2021, and the trend is almost the same in Europe. This shows that once new capabilities are introduced to the market that customers prefer, it's important that businesses adhere to the changing customer demands to ensure they keep up with the market.

This example is indicative of what is currently taking place in the hotel industry. Hotel businesses will need to meet the desires of hotel guests with regard to technological transformation. As more and more convenience-driving tech enters the market, hotels will be under more pressure from guests to utilize it in order to improve the guest experience.

Hotel tech doesn't need to break the bank

The first thought many hoteliers have about hotel technology is, "well this sounds great, but I'm sure it's very expensive". Once upon a time, hotel technology was expensive and didn't focus on providing an ROI for hotel businesses. This is why you only saw it being trialed in larger hotel chains such as Marriott and Hilton. But since then, there's been a significant shift in the hotel tech space, with many hotel tech providers realizing the need for cost-effective and ROI-generating solutions. More often than not, hotel technology providers have taken the cost-effectiveness of their solution into consideration because they know it will never take off if it's not financially viable for hotel businesses.

Nowadays, there are many innovative ways that hotel technology companies help hotels refinance the purchase of their products and solutions. Here at SuitePad, many of our customers fully refinance their SuitePad software subscription costs using the Green Option—a solution that enables guests to forgo room cleaning and generates significant cost savings in water, power, and cleaning chemical costs. Read more about our Green Option and its benefits in this whitepaper.

Wondering where to start with hotel tech?

Hotel tech can be confusing and worrying. Investing in relatively new technologies can seem risky. What if you get it wrong and cost your business rather than improving it? Here at SuitePad, we understand this dilemma, which is why we offer a range of payment options that help encourage your digital transformation to generate significant savings and revenues. If you're looking for confirmation, check out some of the case studies from SuitePad customers on our resources page.

Aside from making your hotel more modern and streamlined for guests, hotel technology will open up new revenue streams and make your business future-proof. The need to incorporate hotel tech is inevitable—you just need to decide whether you want to be a pioneer or a follower. Those businesses that pioneer this technology at their establishments will no doubt benefit from an improved customer experience that will stick in the mind of hotel guests, raising their profile in the hotel industry.
- Originally published on November 16, 2021