Hoteliers are getting used to the "new normal". Here's how hotel technology can help.
Within just a few weeks, the coronavirus pandemic has significantly influenced and affected the lives of billions of people around the world. Tourism has come to a standstill, borders have been partially closed, air traffic has been largely suspended, and contact bans have been imposed. In short, the coronavirus outbreak has presented the hotel industry with an unprecedented challenge. However, these drastic events do not represent a permanent state of affairs, and tourism will eventually resume. Hotel companies have varying degrees of optimism, but they all agree that hotel operations will change and be shaped by a new reality: co-existing with coronavirus.
When talking to our customers, we've found that the new hygiene and safety measures are currently at the top of their priority lists. Hoteliers that want to emerge from this slump in the most effective way will need to accurately gauge guest behavior, including rethinking processes and services and defining new standards.
From our user data—which in a typical month corresponds to approximately 1000 hotels and half a million guests—we've been able to extract first insights which we would like to share to offer a guide on how guest behavior is likely to change in the coronavirus era.
Room service orders have risen dramatically
In times of self-isolation and social distancing, it is not surprising that certain services have quickly become much more relevant again. It's therefore essential for hotels to already start thinking about what this means for their own bookable services. Profit-driven hoteliers are usually no friends of room service as it has been extremely difficult to offer this service profitably in recent years—it's often only offered to meet the service requirements for star categories.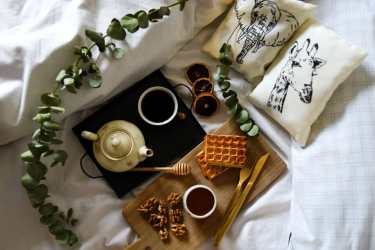 However, in-room service is now gaining attention as guests that are still traveling are increasingly confined to their hotel rooms. We've found that, although the number of bookings per SuitePad in March 2020 fell slightly when compared with that of March 2019 due to the significantly lower occupancy rates of hotels, the numbers were not as far apart as one would expect. The room service order bookings per SuitePad session from March 2019 to March 2020 show that there has been an increase of 89%. This increase suggests that in a world dominated by the coronavirus pandemic, there is still a demand for typical hotel services. With the fear of infection relatively high and a lack of alternatives due to closures, the question of how hoteliers can use and expand their range of services in order to meet the current demand has taken center stage.
Room service can help ease overcrowding in hotels
Traditional services such as room service, which hotels have typically moved away from or raised prices for in recent years, now offer potential opportunities to meet the new requirements. This also means, however, that this service must be organized more efficiently. Early indicators show that there will be limited room service cards in many hotels and that in-room breakfast orders will need to be organized much more efficiently—a necessary requirement due to distancing regulations. Many of our customers tell us that even if guest demands increase significantly, it's unlikely that they would be able to run their hotel at 100% occupancy because the spacial capacities of breakfast rooms often fail to meet the new distancing requirements.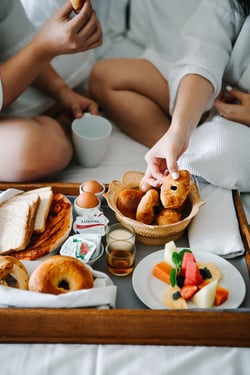 We are currently working with our customers to offer a standard in-room breakfast package for peak times in order to minimize the number of guests in the breakfast area at any given time in compliance with safety regulations. This will not be a classic a la carte breakfast menu, but will instead offer a solution that minimizes the efforts of hoteliers. Guests will be able to conveniently compile their breakfast package through their SuitePad—the in-room tablet found in their hotel room—in the evening, choosing a time for delivery that best suits them. Hotel staff will then hang bags containing the ordered items on guests' doors the following day at the specified times. Another solution to ease overcrowding is to use a traffic light system where guests can choose a breakfast time the evening before and reserve a table. This is intended to minimize overcapacity at peak times.
Guest behavior will likely change in the long term—at least until a vaccine is available. For example, some guests will avoid the restaurant area or refrain from leaving the hotel to eat out altogether. This represents an opportunity for hoteliers to secure revenues for their own business that have typically been generated outside the hotel in the past.
Busy times—such as when breakfast areas are overcrowded—seem far away at the moment, especially as a vaccine might not be readily available until the second half of 2021. There is, however, still the opportunity for success, and if you want to generate business during this time, you will need to adapt.
How else are hotels adapting to the coronavirus situation?
Room service and new breakfast offers are not the only services that can—and should— be optimized for the hotel room. The service requirements and clientele of different hotels might present an opportunity where it's least expected. For example, business hotels are already well set up for everyday office life and offer services such as printing, high-speed internet, and sizable working desks in their rooms. Some business hotels are already converting their rooms into alternative home office working spaces, showing that adapting to the situation can, in fact, have outcomes that help mitigate the effects of the current downturn in business.
For hotels that offer spa treatments, hoteliers will need to factor in more time for cleaning and consider whether some treatments can be shifted to guest rooms.
Some hotels, such as the Four Seasons in New York, have made the entire gym area available for reservation by individual guests and even offered in-room equipment. The first hotels have also integrated yoga videos and sports exercises on their SuitePads, showing that even in this difficult time, the industry is still finding innovative ways to meet the demands of guests.
Final thoughts
One thing is for certain: with coronavirus, the world will be a different place and this is an extreme challenge. It is therefore essential for you to start thinking today about the conditions under which you can reopen your hotel when the time comes—and your first consideration should be how to safely and effectively implement in-room service.
- Published on May 12, 2020