This blog post is all about SuitePad's factory in Shenzhen, China, and how SuitePad ensure the quality of their devices.
This blog post is the second in a three-part series following an interview with the Managing Director and Co-Founder of SuitePad, Tilmann Volk.
When co-founders Moritz von Petersdorff-Campen and Tilmann Volk decided that SuitePad would work better if they produced their own hardware, they needed to ensure they found a factory that met all their requirements. Finding somewhere that was willing to work closely with the product design team at SuitePad to produce small batches of high-quality tablets while also meeting the high labor standards they demanded wasn't going to be easy.
Their search eventually took them to Shenzhen, China. Shenzhen was designated as China's first Special Economic Zone (SEZ) – a classification that has seen the region establish itself as a world leader for tech firms, even rivaling the US's Silicon Valley.
Tech giants Foxconn, Huawei, and DJI are all based in Shenzhen, so Tilmann knew this was the place to produce SuitePad hardware: "Nearly all of our consumer-grade hardware comes from China – is produced there, is assembled there. There's a good reason for that: I'd argue that the highest concentration of expert engineers in the field are located in Southern China."


Choosing the right factory

SuitePad doesn't produce hardware on the same level as global tech giants like Apple and Samsung, so when looking for a factory, the co-founders didn't need one that reflected this focus on mass production. Instead, they were looking for somewhere that was willing to produce medium-sized batches of tablets over a longer period of time, focusing on quality rather than quantity. In Shenzhen, a city of tech giants, factories often have the upper hand when it comes to picking and choosing who they do business with.
Luckily for SuitePad, their product easily convinced the owners of the factory because they believed it would succeed in the long-run. Tilmann explains: "What we had to do was to convince them that with us, it'll be a long term engagement. We will work very closely with them to getting it right, build a high-quality product in medium-sized batches, and over a long period of time. That's why they saw potential in us."
Choosing a factory that has a production line built for smaller scale output than say, Foxconn's Longhua Town – where Apple iPhones are produced, means SuitePad have been able to repeatedly adapt their product as they acquire more knowledge about the needs of the hotel industry. Producing a tablet that features a heavy-duty docking station for ease of use, doesn't include USB ports or integrated cameras for increased security, has a reinforced screen and high-quality metal casing for durability, and doesn't need expensive ultra-lightweight parts, has allowed them to streamline their product for use in hotel rooms while cutting costs for customers. This topic is covered in more detail in the first blog post in this series: The SuitePad Journey – How and why SuitePad offers hotels a complete end-to-end solution.


Taking an active role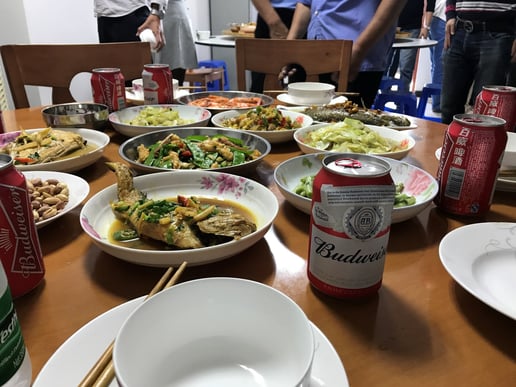 Producing their own hardware not only allowed the SuitePad owners to have more control of their product, but it also meant they could determine the working standards and conditions of the factory they worked with. Tilmann explained in his interview that "it was important for us to have a factory that took good care of their workers. Very often you hear stories about questionable working conditions in China and lots of these are unfortunately true. Since we've been going to the same assembly line at the same factory over the past few years, we've gotten well acquainted with the people who work there and we can see how they work and how long they work. I can say that from what we've seen, and from the certificates of course that our factory has, they have very good working conditions."
On his recent visit to the factory, Tilmann saw the high levels of team morale and job satisfaction among the factory workers for himself. He was even lucky enough to be invited to a traditional Chinese dinner provided by the factory's security guard!


Ensuring quality


Ensuring the quality of their product is of utmost importance for Moritz and Tilmann, so they take an active role in the process. They regularly visit Shenzhen to overlook the process at its source. On his return from his recent visit to China, Tilmann described the complex system of airlocks and attention to detail they pay to cleanliness in the factory to ensure there is no dust contamination or other issues that affect the quality of the devices.
As Tilmann explains: "The assembly line is a clean room in the middle of the factory where the different components are either ordered-in readymade or custom-made for us on-site and are then married and put together. You need to go through an airlock and then they have multiple assembly lines within this big room."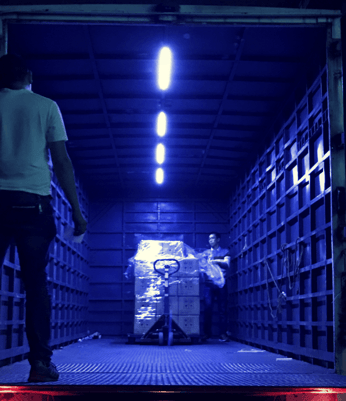 After the various components are assembled on multiple assembly lines, the process of building a SuitePad is far from over. They're then placed in an aging room where they're tested to the limit, often blaring music on full volume, charged for long periods of time, and left running with the screen on full brightness to ensure they don't degrade from prolonged use. After they have passed this process, they're brought to the inspection room where the tablets are subjected to a rigorous level of scrutiny – any scratches, slightly misaligned screens, or even marginally different colored power buttons can mean a whole batch of tablets doesn't make it past this phase. The inspectors who have the job of ensuring this high level of quality are in close contact with the staff at SuitePad, giving them a great overview of how the hardware is produced and the ability to outline the high standards that they expect their tablets to embody.
Once the tablets have gotten through this assault course of tests, they're sent to the packing station where they're carefully packed ready for shipping to the Berlin office!
Back in Berlin


After all that testing, you'd be forgiven for thinking they'd be convinced that the tablets were ready, but you'd be wrong. All SuitePads that arrive at the head office in Berlin are put through another set of tests to ensure that everything is working how it's supposed to, even though they passed the first testing phase at the factory in China.
Tilmann told us in his interview: "We import these devices to Berlin, touch every single unit again and flash it. And that, of course, gives us the chance to inspect every single device again ourselves and let it run through another quality check."
Once the hardware has been tested, the tablets are ready for their software installation. At this point, the SuitePad application is installed and the Wifi configuration is pre-set. Adding the crucial parts of the software installation at the Berlin office ensures there is no security risk posed by dealing with third-party suppliers. This is just one of the ways that SuitePad ensures customer data is protected.
Once the customer-specific content has been uploaded, the tablets are put through yet another round of testing to ensure there are no bugs before they're sent out to customers around the world!


Summary


The staff at SuitePad know what it takes to ensure the product and service they provide meets the high standards that their customers have come to expect. This process started the moment they decided to start making their own devices. By producing their tablets in Shenzhen and finding a factory that is focused on quality rather than quantity, SuitePad have ensured they are regarded as a leader in the industry.
The active role that the SuitePad co-founders take in the testing and quality assurance of their products has built a brand that's known for its quality. It is this attention to detail that helped convince the factory they work with that they were a serious contender in the digital guest engagement industry, and one that would make them a great long-term investment.
This blog post is the second in a three-part series that also includes an interview with SuitePad co-founder Tilmann Volk.
Interview with Tilmann: SuitePad Tablets in the Past, Present, and Future
First blog in the series: The SuitePad Journey – How and why SuitePad offers hotels a complete end-to-end solution
- Published on September 18, 2019