This is an exclusive interview with the CEO and co-founder of HotelTechReport, Jordan Hollander.
We had hoped to catch up with Adam and Jordan Hollander—brothers and co-founders of HotelTechReport—for an exclusive interview at this year's ITB in Berlin, but due to the current global situation, ITB was canceled and the brothers never made it to Germany! We didn't want that to get in the way of a great interview, so we decided to conduct the interview remotely, albeit a little later than originally scheduled. We caught up with Jordan to talk about HotelTechReport in the past, present, and future, as well as how innovations in hotel tech can help hoteliers emerge from this global crisis stronger than ever before.

You can listen to the interview in full by clicking on the button below, or read on for a quick summary and teaser of what was said. We've included the time stamp of each question in the recording if you'd like to skip ahead to listen to the individual questions.

Question 1: (00:19) What were your initial intentions for starting HotelTechReport? What did you want to achieve?
Jordan starts by highlighting the initial problems that and he and Adam identified when it came to hotel tech. The first issue was that hotels couldn't deal with the bombardment of email marketing from hotel technology vendors which was often confusing and impossible to filter through. Secondly, there was, as Jordan puts it, an "adverse risk/reward profile"—GMs were often not incentivized to discover technology that aided the hotel but could risk their position and even their job security if their suggestions were unsuccessful.
When talking about HotelTechReport's aims, Jordan said:
"What we've always said from day one, is if a vendor has bad reviews or bad sentiment among their customers, we want to let them know and for them to know that, bring it to the foreground and help them fix it. And if a vendor has really great service and a great product, we want to help shout that from a mountain top and get more customers by highlighting their happy customers… You always hear that the hotel industry is slow to adopt technology, it's a laggard—we wanted to change the perception around the hotel industry into being one of the most forward-thinking, technology-savvy, digitally innovative industries, and we wanted to protect it from disruption from a lot of these companies (like Airbnb etc.)... and show that technology is a way to become more hospitable."
Question 2: (07:20) What do you see as the major barriers to the adoption of technology in the hotel industry?
Here, Jordan highlights three main points:
A lack of education – Technology was always viewed as an expensive luxury for the hotel industry, but moving to the SaaS model has "broken the barrier of cost". Hotel tech is now affordable and even profitable for hoteliers but many of them don't realize that.
Integrations – Hoteliers need systems that integrate well, but for a long time, a lack of integrated systems has made hoteliers wary of committing to tech solutions. The hotel tech industry has realized this and is now focusing more on integration as a key selling point.
A lack of clarity – One of HotelTechReport's first challenges was to categorize the different hotel technology solutions—something that hadn't been done before. This helps keep hoteliers compare solutions and easily find the ones they need for their specific use case.
Question 3: (14:00) How do you see technology benefitting hoteliers?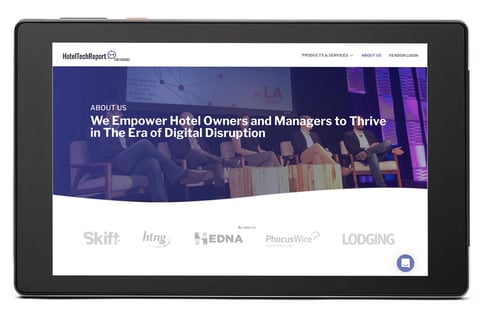 Jordan highlights the cost-saving and revenue-increasing benefits of technology in the hotel space, but also highlights how it can enhance the ability for hotels to increase their personable touch for guests:

"Some of the biggest things that are happening in hotels is really thinking about... what are the kinds of jobs that should be done by people and what are the kind of jobs that should be done by machines? So, in the case of SuitePad, you don't need a human to pick up the phone and take an order for room service. A guest is much more likely to go on a tablet, see a great picture of something they'd love, and place an order. It doesn't mean that you're necessarily firing people... but you're taking the excess strain off of your workforce so they can focus on things that humans are better at."
Question 4: (15:58) How do you think hotel technology can help the hotel industry recover from the impact of the coronavirus pandemic? What innovations do you think could be particularly helpful?
Jordan starts by saying that:
"In many ways, the hoteliers that adopted technology before the crisis are better positioned because, for example, if you can use live chat on your website you can now manage all inquiries and communicate with guests in real-time without going to your property... The areas where technology helps needed to be installed before the crisis... Technology helps as you're slowing down and as you are picking back up."
He also explains that hoteliers should use this downtime as an opportunity to review and sure-up their infrastructure and operations to make things more efficient. This will put hotel businesses in the best position to reenter the market.
Question 5: (24:57) What do you see for the future of HotelTechReport? Where do you see the company in 5 years' time?
"In five years, we see every hotel manager and owner in the world using our platform to find solutions and to learn about technology. We see ourselves as being one of a few parties that we jokingly like to say (making a little fun of our president here in American) are "making hotel tech fun again"... Tech is the sexiest vertical in any industry, it's aspirational, everyone wants to cover it, and I think in this industry, for too long it's been stagnant. As we create great content that's elevated and non-salesy, we provide transparency and trust through reviews... more and more hoteliers are moving into that segment... and so in five years, we see ourselves as the central brand in this community"
Listen to the interview in full now
We'd like to thank Jordan for taking the time to speak with us. We hope that this interview has given you some insight into HotelTechReport as a company and on a broader level, the future of hotel tech. If you'd like to listen to the interview in full, just follow on this link. For further insights into how HotelTechReport is supporting technology companies in the hotel tech space, visit their website or download your free copy of the recently published 2020 HotelTechReport Market Leaders Index™.