We're excited to announce that SuitePad has ranked #1 overall on Hotel Tech Report's Global Best In-Room Hotel Tablet Solution competition of the 2022 HotelTechAwards.
The HotelTechAwards are produced by Hotel Tech Report, the leading authority on hotel software and digital transformation in the hotel industry. The HotelTechAwards rank the world's best hotel software companies and products based on authentic, timely reviews from real users.
With over 2,232 software companies on Hotel Tech Report, SuitePad is honored to be recognized as the #1 in the competitive Guest Room Tablets category for 2022.
Cementing the position as the best guest room tablet for the third time in a row
"This is a big deal for SuitePad as the award is based on real customer feedback from hotels across the globe. We are very proud to have achieved 1st place, especially facing stiff competition. After another challenging year for the entire hospitality industry and the chip crisis on top of that, this is a really important achievement!" said SuitePad´s Co-Founder and Managing Director Tilmann Volk. "A big thank you to all hotel partners that shared their feedback and of course to the entire SuitePad team that made this happen!"
The lists are based on data from over 11,000 verified customer reviews during the HotelTechAwards period. These reviews were written and published between September 1, 2021–December 15, 2021, with participation from every major hotel brand and thousands of independents.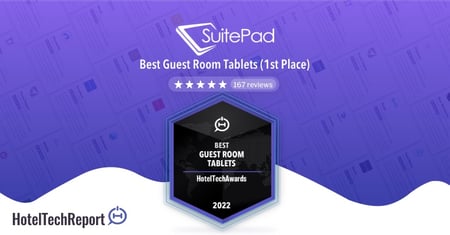 HotelTechAwards: the Grammy's of Hotel Tech
"This isn't a subjective list based on a few peoples' opinions," explains Hotel Tech Report CEO, Jordan Hollander. "With the highest traffic and engagement, largest selection of product and services, and highest quality data, Hotel Tech Report analyzes more than 100,000 data points to determine the best products in the market."
At SuitePad, we're proud to be the leading provider of guest room tablets for the hotel industry for the third year in a row now!
Browse dozens of verified SuitePad reviews on Hotel Tech Report and view the official Hotel Tech Report press release.
Book your free SuitePad demo today!
If SuitePad sounds like a solution for your hotel, book your free demo now and learn more about the Best Guest Room Tablet in the 2022 HotelTechAwards.
- Published on January 12, 2022