With the introduction of SuitePad TV Control, complicated and temperamental remote controls will become a thing of the past!
SuitePad TV Control allows guests to easily and intuitively control their hotel room TV directly through their SuitePad device. Conventional remote controls often require guests to scroll through an endless list of channels which not only wastes their precious time but also makes finding and choosing which show to watch a real drag. Control options such as channel selection, volume control, and television show descriptions can now be centralized on an easy to operate digital platform, simplifying the experience so guests can focus on what's important – enjoying their stay at your hotel!
So, how does SuitePad TV Control work?
Just like conventional remote controls, SuitePads are fitted with infrared sensors. This feature means that SuitePad TV Control can be used with virtually all hotel television models without the need for a disruptive and expensive installation process, or any need for Internet TV (IPTV), LAN, or HDMI connections.
How do you setup SuitePad TV Control in your hotel?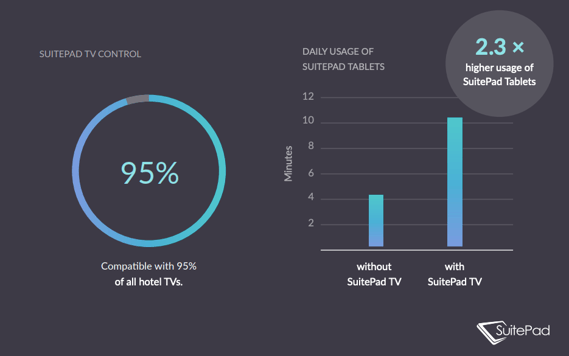 SuitePad TV Control set up is quick and easy, and all that's required is:

A list of which TVs are in each hotel room
A channel list for all TV sets and their respective model
Once this information is collected, the SuitePad team will get to work preparing your tablets with a bespoke interface that's designed by integrating your hotel's specific requirements. We will then install the tablets on-site, and connect them to the hotel TVs. Once completed, your guests will be able to enjoy the comfort that SuitePad TV Control brings to their stay at your hotel.
How will your hotel benefit from SuitePad TV Control?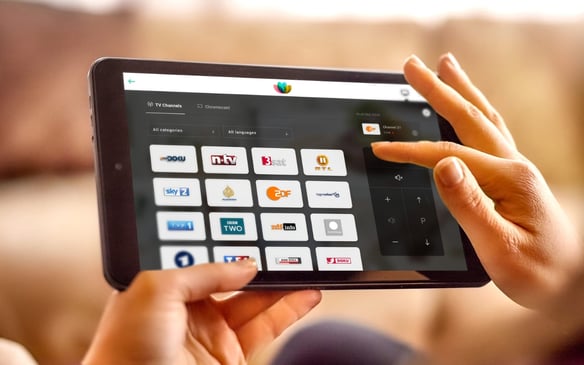 Opting for SuitePad TV Control offers benefits beyond just providing an easier service for guests, including:
Easier, faster, and more efficient cleaning of the device for housekeeping, and a tidier appearance than conventional remote controls.
Constant and convenient battery charging – a solution that will ensure guests aren't stuck with a TV remote that has flat batteries, therefore avoiding negative reviews.
Encouraging guests to use the SuitePad for other purposes, increasing the likelihood that they'll use your hotel's services and broadening the opportunity to upsell.
Increasing the standards of your hotel by presenting it as a modern, connected business – a quality that will make your business stand head and shoulders above the competition!
SuitePad TV Control is just one of several ways that we at SuitePad are bringing innovation to the hotel room. In addition to this service, we'll be launching our new SuitePad TV Plus service by the end of 2019, bringing you modern, up to date television services that will catapult your hotel into the 21st century.
If you'd like to learn more about SuitePad TV Control, don't hesitate to request a live demo and try it for yourself, or download our free flyer for more information. We'd be happy to advise you on both SuitePad TV Control and SuitePad TV Plus, and how they can help transform your hotel.