As we enter a new decade, we've had some excellent news at SuitePad. We've won two of the most prestigious awards in hotel tech, kicking off 2020 to a dream start!

We're proud to announce that SuitePad has received the HotelTechReport Best Guest Room Tablet award in the 2020 HotelTechAwards AND were also ranked first place in HotelTechReport's Best Places To Work In Hotel Tech 2020 list!
HotelTechReport – Driving Innovation in the Hotel Industry
For many years, tech companies saw opportunities in the hotel industry, but presenting what they could offer to hoteliers was a real challenge… and then HotelTechReport arrived!

HotelTechReport is a platform that allows hoteliers to find the best technology for their business based on unbiased, well-vetted, and insightful product descriptions and reviews. They are now a key component to the digitalization of the hotel industry, facilitating the integration of useful technological advancements by offering a platform where entrepreneurial tech companies can engage with their target audience. For hoteliers, they offer an insightful look at what is out there on the market and aid in connecting them with tech companies that can help improve their hotel business. In this sense, they are a real driver of innovation in the hotel industry.

The HotelTechAwards are known as the "Grammys of hotel tech". HotelTechReport co-Founder and CEO, Jordan Hollander states that:

"winners have truly earned their showcase with our rapidly growing community. Hoteliers trust this award when making purchase decisions because scoring is transparent and participation is ubiquitous amongst the most reputable vendors in the industry"
Nailing it in the Best Guest Room Tablet Category: SuitePad #1 Product
SuitePad has been announced as the winner of the Best Guest Room Tablet Award in the 2020 HotelTechAwards. This outstanding achievement is the best way we could have started off the new decade and we intend to keep the momentum going!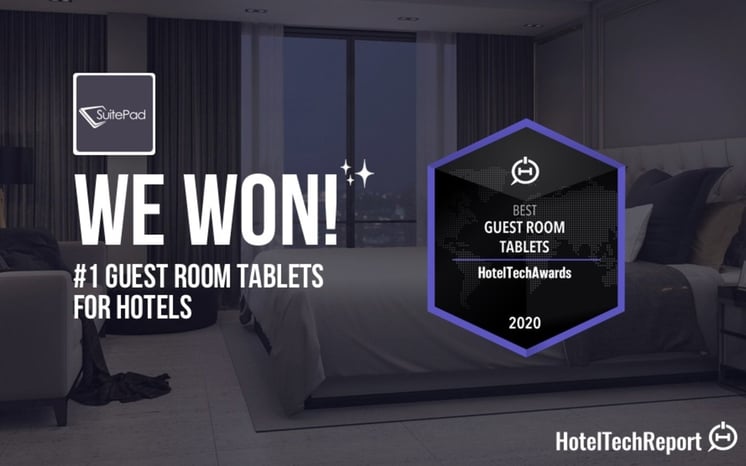 It's fair to say that we absolutely nailed it on our HotelTechReport profile, achieving a recommendation rate of 95%, a rating of 4.8/5, and a Hotel Tech Score of 96/100 from 62 reviews. The consistently high scores and great endorsements that we achieved from our customers indicate that our products and services are succeeding in supporting and growing their businesses.

The diversity of reasons that customers gave as to why SuitePad was beneficial for their business exemplifies why we were so successful. Customers praised the quality of support, the ease of installation, the ability to increase revenue through enabling up- and cross-selling, and the capabilities of the SuitePad to act as a modern information point for guests. But don't just take out word for it — here are some of the comments that our customers left on HotelTechReport about our products and services:

- "Great tool helping us generate additional revenue through the room service and the late check-out options" – from an airport/conference hotel in the Netherlands.

- "SuitePad allows us to deliver a great customer experience in which guests can liaise with the team at any time of day" – from a resort hotel in the UK.

- "I appreciate the quick and simple support. The customer service was very friendly and helpful" – from a resort hotel in Germany.

Our Managing Director, Moritz von Petersdorff-Campen, said: "We are over the moon to be awarded Best Guest Room Tablet! HotelTechReport is the leading platform for technology in the hotel industry, and its meticulous and impartial verification process makes this one of the most prestigious awards we could get."
More Than Just a Place to Work – SuitePad is the Best Place to Work in Hotel Tech!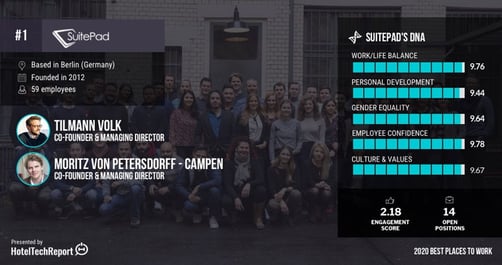 Just when you thought things couldn't get better, SuitePad has also been announced as HotelTechReport's Best Place To Work in Tech 2020. This ranking compares all vendors that feature on HotelTechReport, so it is a great achievement. It shows that as well as getting it right with customers, we are also getting it right with our own employees who are happy and proud to be part of the SuitePad family.

Moritz had this to say: "For SuitePad to be recognized as the best place to work across all vendors is more than just an added bonus. It shows that our team members enjoy coming to work every day and share in our vision to bring the hotel room into the digital age."

We'd like to thank everyone that left a review of our products and services on HotelTechReport, enabling us to win these prestigious awards. It has shown us that all our hard work is making a difference for hotels and that both our customers and staff trust in what we do. It has been a great start to 2020, and it's not our job to keep this momentum up and make this our most successful year yet!
- Published on January 08, 2020