After one of the most difficult years in living memory, 2021 couldn't come any sooner. Like everyone around the world, we're hoping that it proves to be much better than 2020—it certainly can't be much worse!
With a vaccine finally being rolled out, there's lots of anticipation about what 2021 has in store for us. To kick off this promising new year, we're looking forward to the hotel technology trends that you should be on the lookout for in 2021.
Smart hotel rooms
Smart hotel rooms have been in the pipeline for a few years, but the technology has always been just out of reach due to high installation costs. However, things are on the brink of a major shift for smart hotel rooms in the hotel industry as more companies release more cost-effective solutions than ever before.

Smart hotel rooms give guests the chance to control lighting, drapes, in-room temperature, in-room fans, and other in-room controls from a central control device and are a great way to heighten the guest experience at any hotel. Companies such as Interel are setting a trend that could finally break the market this year!

Digital check-in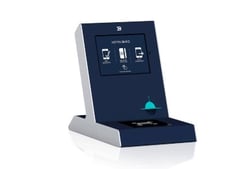 Digital check-in and out is another feature that has been on the market for a few years without ever really taking off. The major reasons digital check-in and out haven't been very successful are because solutions are clunky, not user-friendly, and unpredictable.

So, why is 2021 likely to be any different? 2020 highlighted the need for social distanced services. This has driven the market to produce sleeker and more user-friendly digital check-in and out services than ever before. Beyond its obvious benefit during a global pandemic, the use of digital check-in and out has highlighted its additional benefits. Hotel guests that need to leave at late hours, are in a rush, or need to leave during busy times benefit massively from digital check-in and out. From a business perspective, digital check-in and out takes the burden off of front desk staff, saving on staffing costs.

Companies such as hotelbird are at the forefront of this new feature that could be changing hotel interactions in the near future.

Casting technology
Watching TV has completely changed in the last few years. With Netflix, Amazon Prime, Hulu, and Disney+ now showing everything you could want, guests are likely to be underwhelmed by regular TV in their hotel rooms. So what do you give to guests that already have everything they could want at their fingertips? The ability to view their content on the big screen of course!

Casting technology will certainly become a regular feature for hotels. It's a no brainer since it is relatively cheap and very easy to implement. If you're looking for a low-cost way of bringing your hotel into the digital age, installing casting technology is a great place to start!

Sustainable hotels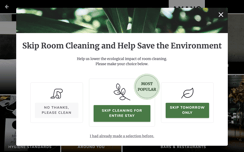 With sustainability being one of the current long-term trends for the hotel industry, we expect to see technology helping to make more sustainable hotels in the future. This could happen in a variety of ways such as using digital in-room tablets instead of high amounts of paper for in-room menus and guest directories or offering digital ways of allowing guests to forgo room cleaning such as with SuitePad´s Green Option.

As sustainability is now a major consideration for modern hoteliers, vendors will need to seek cost-effective and even profitable ways to enable hotels to become more sustainable. Be on the lookout for more digital solutions that promote sustainable hotels while achieving an ROI.

Hotel big data
Big data is everywhere, and whether you like it or not, it's here to stay. With so many functions in the hotel industry now being digitized, it's no wonder that hotels will now be collecting and storing data from their guests. But this isn't some evil scheme to trap guests into unwittingly signing up for unnecessary services. Big data will allow hotels to shape guests' stays by matching them with their needs. This will change the experience of staying at hotels for the better.

If a guest enjoys spa treatments, has booked them in the past, or has been searching the spa menu on their in-room tablet, hoteliers will be able to see this and offer them a deal to suit their needs. For hoteliers, this option presents new upselling opportunities. They can now really target what guests want without blindly making offers they're not interested in.

2021 will be an exciting year for hotel tech!
With all these new tech trends on the horizon, 2021 looks like it will shape up to be an exciting year! With the end of the pandemic in sight and hotels needing a real boost to get the industry up and running again, these innovations will prove vital for any hotelier that wants to get a head start on the competition. Keep your eyes peeled and give some thought to what technology will really help you and your business this coming year!