An opinion article by Moritz von Petersdorff-Campen, Co-Founder and Managing Director of SuitePad.
I know how hard many hotel groups work with their guest experience teams and technology suppliers to provide a seamless digital guest journey. Driven by the pandemic there has been a tremendous focus on digitizing guest engagement. That is a great development and I believe it is more than just the result of the staff shortage in our industry: even conservative hoteliers have realized that digitization can enhance the guest experience pre-, during- and post-stay.
But now as we are finally exploring the world again and experiencing both a digital traveler journey in hotels and in planes, it becomes clear: We – the hospitality industry - can still learn a lot from airlines.
To be fair, creating a digital guest journey is easier for airlines than it is for hotels. Airlines have millions of passengers and hence better economies of scale when building digital solutions, the product offering is more streamlined (1st class, business, economy vs. lots of different room types and various other Spa and F&B outlets) and while most airlines use the same software globally, hotels often struggle with an on-premise technology stack that makes it hard to innovate.
But enough with the excuses: what can hotels learn from airlines in terms of digital pre-, during- and post stay guest experiences?
Pre-Stay: Offer multiple ways to check-in and start your trip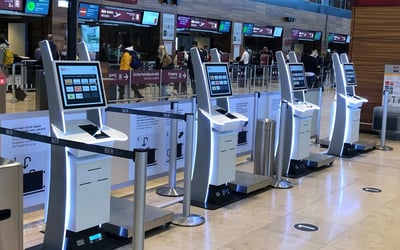 A frequent traveler will use the airline's app to book, check-in, go through the gate and collect / manage their points. That sounds great but one issue that airlines are facing is that apps are usually being downloaded by a small number of travelers. Nonetheless, airlines like Lufthansa with 145 million travelers in 2019 will still see decent usage on their apps given the large number of customers.
But I would argue that only a fraction of their check-ins come through their apps. The majority of passengers use the online check-in on the airline's website. And even if that does not work for certain passengers , they still do not have to wait in line and speak to the airlines' ground-staff in order to get their boarding pass: various check-in terminals are available in the departure area at most airports.
App, web check-in, terminals or check-in counter with human assistance: these are the options an airline traveler can choose from. Three of the four are digital, while in most hotels, only one option is available (and that is usually not digital).
A digital check-in may not be suitable for every hotel but if you believe it is in high demand by your customers, do not build an app and pray that guests might use it. You need to provide multiple options and let the guests choose their preferred one. If you can only go for one or two, start with those that have stronger usage (usually web check-in & terminal).
During-Stay: Bring-Your-Own-Device (BYOD) and purpose-built hardware go hand-in-hand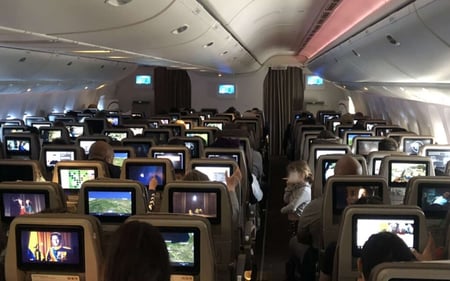 I took this picture in February 2022 which, for many travelers including myself, was the first intercontinental flight since COVID hit. More than 80% of passengers used their in-seat-touchscreens to be entertained, learn about the route, explore duty free shopping options and get recommendations about their destination. Most of us enjoy using the free entertainment device provided by the airline. It is just too easy: all content is pre-loaded and flight information is at your fingertips. Sometimes I am surprised by how many hoteliers are staunch supporters of either BYOD or in-room-tablets. Imagine asking an airline traveler if they would prefer digital check-in or in-flight-entertainment: They want both!
Think about it, travelers carry their own tablets and smartphones with Netflix, Spotify or Youtube content already downloaded to enjoy during the flight. Still, most passengers end up using the provided in-flight-entertainment anyway.
We see a similar user behavior in hotels: 65-90% of guests (depending on the type of property) use in-room-tablets to be entertained, learn about the hotel and its services, explore the room service menu, and get recommendations about their destination while in their rooms.
In planes and hotels, it is much easier for customers to reach for the device provided instead of scanning a QR code or downloading an app! That is why tech-savvy-travelers and paper-boarding-pass-holders like to use the in-seat-entertainment in planes and in-room-tablets in hotels.
To sum things up, it comes naturally for airlines to provide a BYOD solution and at the same time engage the customer with in-seat hardware. Hotels should not have to choose between the two either. They can use the best from both worlds: in-room-tablets which are used heavily by guests during the stay and a mobile solution for the smartphone that can be used prior to arrival and when not in the room.
Post-Stay: Customers become loyal to you if you do what is best for them – even if that means sending them to your competitor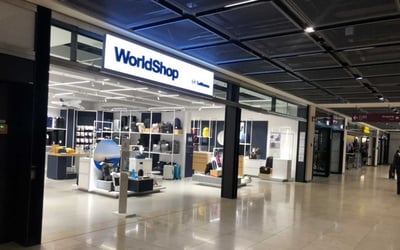 Walk in an airline passenger's shoes for a minute: How does the ideal loyalty program look like?
What about having a lot of leeway in how you use your points? Whether it's for getting perks on flights, benefits with other mobility partners or shopping for the latest travel equipment? And wouldn't it be great if the status you've achieved with your favorite airline could also be used at other airlines' lounges and even get additional points when you spend money with them? That is exactly what airlines are doing with organizations like Star Alliance or Oneworld Alliance. Airlines understand that they can't afford to offer all routes required by their customers, nor can they afford to have a lounge at every airport in the world. That is why they need to make sure to find the right partners and jointly provide a superior experience for the customer. That is what creates loyalty.
How does your hotel loyalty program fare in comparison? Most probably not too well! Unless you have a massive global presence like Marriott or Hilton, you will have a hard time serving your customers adequately in all the different places the world has to offer. The loyalty base of larger chains is probably one of the biggest advantages they have over smaller groups and individual hotels. The main benefits are significantly cheaper distribution costs!
For hotels, this involves carefully considering who would be a good partner for their loyalty program. There are lots of hotel cooperations and loyalty companies out there, but few of them have a substantial customer base and even fewer can tap into that base and drive business your way in the long run.
If you are unable to find a good loyalty partner for your hotel, you can participate in collaborations that support and promote direct booking initiatives. Starting your own loyalty program is usually not a good idea even if you have several dozen hotels. Guests will start comparing you to larger loyalty programs who already operate on the level that airlines do and if they do – they might be disappointed with your offering!
Hoteliers, let's innovate
All in all, there is plenty to learn from other industries and there is a reason why the Harvard Business Review ranked the hospitality industry as the third least digitized. But having seen the shift that the pandemic brought to many hoteliers' mindsets, I am very optimistic that hotels will step up their game. The average hotel might not have massive economies of scale like an airline, but the smaller size allows them to innovate much quicker and that is what we have to do as an industry to close the gap – so let's get started!
- Published on March 29, 2022