In the fourth part of our blog post series, you'll find out how digital guest directories can help hoteliers reduce costs through automation and process optimization.
Goal #4: Optimizing and automating processes
"Automation, process optimization, cost reduction ..." – all bold claims that can often just sound like part of yet another sales pitch—but not with SuitePad! This blog article will demonstrate how SuitePad boosts sales and saves money by automating and optimizing processes, explain the "big picture", and show how SuitePad's process cycle works. You'll see real customer installations and success stories, how in-room tablets are currently helping hoteliers and how the tablet is so much more than merely a tool for digital guest communication.
Read part 1 of our blog post series on "Enhancing digital communication",
part 2 on "Increasing sales through upselling"
& part 3 on "Boosting brand awareness and communication"
Automation and process optimization in the hotel industry
While hotel apps and chatbots are currently in fashion in the hotel industry, automation through digital processes goes much further. Although hotels themselves are part of the service industry, more and more are taking advantage of the opportunities afforded by ever-evolving technologies in order to offer their guests cutting-edge holiday experiences. With the advent of digitalization, guest services in the hotel industry have transformed from a purely transactional service into something more interactive (read more here: "The Automation of Service in the Hotel Industry"). It's no longer rare to see digital check in and check out, self-service kiosks in hotel lobbies, or digital communication with staff via hotel apps. In fact, in certain categories of hotel, guests have come to expect these things as standard.
In the hotel industry, process optimization goes hand in hand with automation. If a process is automated using technology, the goal is to optimize that process. For example, lobby robots can lighten the load of front office staff and help answer guests' questions.
This is precisely SuitePad's goal—to optimize hotel processes through digital automation and reduce costs. The SuitePad process cycle demonstrates how this works!
The SuitePad cycle for continuous hotel improvement
SuitePad is not just an investment in digital guest directories. It's also an investment in a digital solution that delights your guests, optimizes hotel processes, and generates a sustainable increase in turnover.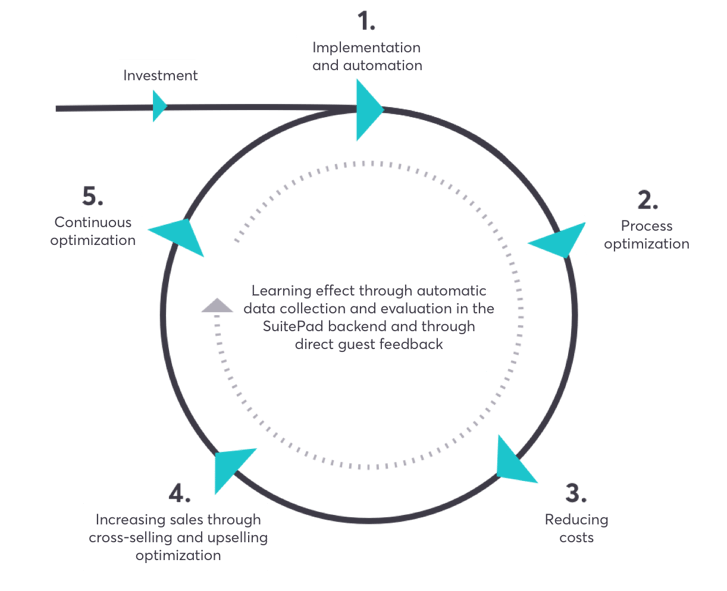 1. Implementation and automation
Following the initial investment in SuitePad hardware, and a monthly software fee, the automation process through digitalization begins immediately. SuitePad allows you to digitalize your guest directory, hotel room entertainment, room service, spa and restaurant reservations, the hotel telephone, the remote control, and so much more. Hotel staff can set up automated push notifications or pop ups in the back end which are then sent to all the SuitePads in the hotel, or to individually specified rooms. Hoteliers who already use SuitePads find this function particularly useful for letting guests know about special offers, services or events. SuitePad also automates requests for limited room cleaning. The "Green Option" feature is a pop up that appears on the SuitePad in a guest's room after check in and gives them the option to opt out of daily room cleaning. Not only is this good for the environment, but it also reduces your cleaning costs as a hotelier! An optional PMS interface enables even more automation. For example, guests can be welcomed to their hotel room with a personalized greeting on the SuitePad device.
2. Process optimization
How does SuitePad help you to optimize your processes? To put it simply, SuitePad optimizes by digitalizing as many functions and processes as possible with the in-room tablet. For our customers, their cross-selling and upselling processes are the main focus of optimization. You can use the SuitePad guest directory's hotel shop function to showcase products, advertise room service and spa packages, and give guests the chance to request or book them immediately. Guests are much more attracted by these creative, visual representations than the ordinary room service lists of food and drinks in a traditional, printed guest directory. As a result, demand for these additional services greatly increases. SuitePad also optimizes the process of updating guest directories. Gone are the days of manually swapping printed guest directories after every tiny change. Digital guest directories can be updated with new content by the hotelier or receptionist directly in the clutter-free back end with just a few clicks. The feedback process is also optimized thanks to SuitePad. Check in with guests during their stay to see whether they are enjoying their holiday, deal with any potential complaints quickly and therefore prevent negative reviews after they leave.
3. Reducing costs
As we briefly touched on earlier, SuitePad doesn't just optimize processes using digital automation, but also saves money by doing so. Savings can be made on:
Cleaning costs: During a short holiday, daily room cleaning is often unnecessary and not actually something that guests want. The "Green Option" allows your guests to decide for themselves whether or not they would like daily room cleaning. When considered over the course of a year, this function could save you a lot of money. In our Hotel Esplanade Bad Saarow's success story, you'll learn how the hotel saved €1,500 a month, all while helping to protect the environment!
Hotel telephone costs (and replacing the remote control): SuitePad is multifunctional and guests can use it not only as an information, reservation and entertainment tool, but also as a hotel telephone and TV remote control.
4. Increasing sales through cross-selling and upselling optimization
It's one thing to reduce costs, but it's another to increase sales – SuitePad can do both! Unlike hotel apps, SuitePad tablets are available to use right in the hotel room. Appealing images and interesting texts with a personalized flair encourage guests to take full advantage of everything the hotel has to offer, book additional services, or buy products from the hotel shop. Read more on the topic of upselling with the digital guest directory in the second part of our blog post series.
5. Continuous optimization
The SuitePad cycle goes hand in hand with continuous optimization, as the SuitePad back end automatically shows you the most important data for your SuitePads. At a glance, you can see the average length of time your guests use their SuitePads for, which pages draw the most clicks and visits, how many orders and sales the SuitePad has generated over a certain time period, or even at what time your guests most often use their SuitePads. This analysis is particularly valuable and allows you to continuously optimize your processes. For example, you can use this data to determine the best time to send push notifications, rather than relying on gut feeling alone. You can be aware of new developments and seasonal differences and customize your guest directory as many times as you need. Expert advice: We have analysed the room service data from 670 hotels and produced a whitepaper full of relevant tips on how you can increase your room service turnover. Read now!
The learning effects
SuitePad allows you to keep learning more and more about your guests. Thanks to the intuitive back end, the digital guest directory can be quickly adjusted to keep up with the latest trends and therefore evolves along with changes in guest behaviour. When faced with tough challenges, such as COVID-19 regulations, the digital guest directory has proven to be the right choice for hoteliers. We are constantly developing and, as an agile business ourselves, are always working on improving what we have to offer.
The Mere's secret to success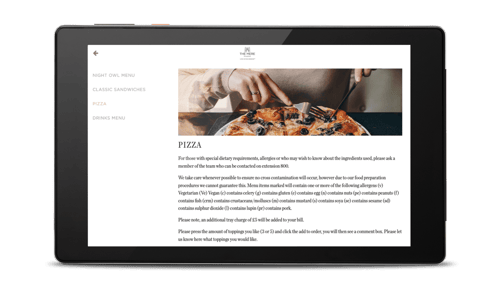 "The Mere" golf and spa resort in Cheshire already had a reputation for first-class room service before they introduced SuitePad's digital solution. It might seem as though there's no more room for improvement when it comes to first-class room service offerings, but in partnership with SuitePad, The Mere continuously optimizes their room service processes in order to improve their guests' overall experience.

Reducing costs through automation and process optimization with SuitePad
As shown in this blog post, the SuitePad digital guest directory is not just a tablet that keeps guests informed and entertained. It is a small part of the larger cycle. Each individual SuitePad in your hotel will help to complete the big picture of automation, process optimization and increased turnover. SuitePad has now been around for a number of years and, in that time, processes have constantly been improved, not only by us in the company, but also thanks to the many success stories shared by over 1,000 customers around the world. See for yourself and get advice from one of our experts.

Read part 1 of our blog post series on "Enhancing digital communication",
part 2 on "Increasing sales through upselling"
& part 3 on "Boosting brand awareness and communication"