This is your chance to get a FREE copy of the HotelTechReport 2020 Market Leaders Index™—this year's most valuable resource in the hotel tech sector!
HotelTechReport have just released their 2020 edition of the HotelTechReport Market Leaders Index™—a who's who of hotel tech from around the globe. This year's selection includes a whole host of categories, including revenue management products, operational products, marketing products, and guest experience products—which is where SuitePad comes in. If you'd like to read the report for yourself, download it here or read on to find out more about the 2020 HotelTechReport Market Leaders Index™ and how SuitePad performed.
HotelTechReport is the brainchild of brothers Jordan and Adam Hollander. The LA-based duo launched the site in 2017 and it has already become the world's number one platform for everything hotel tech-based. Over 40,000 hoteliers in 150 countries use the platform every month to discover innovative and trustworthy tech solutions that are helping to drive the hotel industry into the future.
What's included in the 2020 HotelTechReport Market Leaders Index™?
The 2020 HotelTechReport Market Leaders Index™ is an invaluable resource for hoteliers. It uses verified hotelier reviews and a complex points-based system to benchmark hotel tech vendors within their respective categories. Their score is based on key determinants including their HotelTechScore, company culture, and quality of customer support. It's this rigorous statistical approach that makes this report the most trustworthy on the market right now.

The research and statistics provided in the report offers a great overview of which sectors in the hotel industry are adopting technology at different rates. For example, it breaks down reviewers into property type, showing that 19% of reviews came from boutique hotels whereas only 9% came from bed and breakfast hotels—highlighting that different hotel types are engaging and adopting technology at very different rates. Additionally, the report breaks down reviewer statistics by global region, technology type, and hotel service departments, proving that this resource is indispensable for modern hoteliers.

How did SuitePad perform?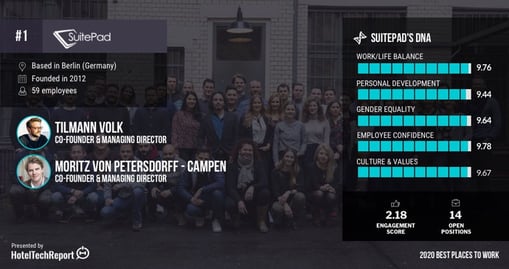 SuitePad scooped first prize at HotelTechReport's 2020 awards in the Best Guest Room Tablet category—beating many major players in the industry to this position. This achievement means we've been featured in the report along with the winners of all the other categories from this year's HotelTechAwards in the Top Rated Guest Experience Products category. SuitePad achieved a great HT Score of 96/100, and also got the highest partner recommendation score in the category, scoring an impressive 10/15.
In addition, SuitePad also came first in the 10 Best Places to Work in Hotel Tech category, fending off competition from the likes of Hotelkit, Cloudbeds, and Mews Systems. Our company culture here at SuitePad is designed to create the perfect environment for innovative minds to flourish—this award is evidence that we've got it right!

Download your copy of the 2020 HotelTechReport Market Leaders Index™
Whether you're a hotelier looking to improve your establishment or simply a hotel tech enthusiast, the 2020 HotelTechReport Market Leaders Index™ is one of the most valuable and insightful resources of the year. If you want to broaden your understanding of the role technology plays in the hotel industry, download this free resource now here, or by clicking on the link below.